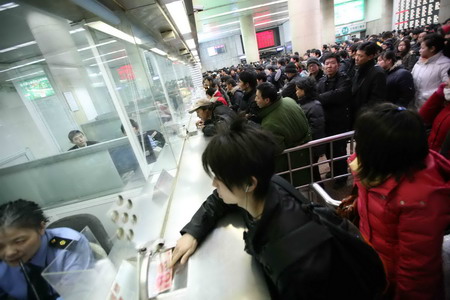 The ticket hall at Beijing Railway Station is crowded yesterday as the annual Spring Festival travel started in earnest.[China Daily] 
Zhou Geng appeared out of nowhere.
Making the briefest possible eye contact with his buyer, the skinny teenager dashed on his e-bike to a dark corner behind a subway station in southern Beijing.
"We are closely watched," said the short, perm-haired youth as he held the pink extra-charged ticket for a sleeper train bound for Heilongjiang province that would depart from Beijing West Railway Station.
"I've been caught several times on the scene," the 15-year-old said. "Lucky for me, I am too young to stay behind bars. I spent the rest of the afternoon at the police station and that was it."
With only three weeks left before more than half of the country's workforce and students stretch the nation's transportation system to its limits during Spring Festival, Beijing's ticket scalpers are working at a frantic pace.
Although the scalpers, which number in their thousands, are being watched via tens of thousands of live-feed street cameras and by plainclothes officers, they are still managing to get hold of coveted tickets to sell to desperate buyers, while adding between 50 yuan and 400 yuan for their trouble.
"We didn't see any scalpers but I'm sure they are lingering about somewhere because so many people are lining up for train tickets," said Michel Rijkeboer, a backpacker from the Netherlands who was queuing for a ticket to Shaanxi on Tuesday.
Lu Yang, a scalper handling tickets with her sister just a block from the Beijing Railway Station, said business started a few weeks ago.
"A lot more people have been asking us for tickets leaving for Shanghai, Jiangsu and Zhejiang these days," she said.
Related readings:


 Real-name ticket system launched in China


 China pilots name-based train ticket sales


 Testing time for students heading home


 China embraces Spring Festival travel peak

A scalping team usually consists of seven or eight people. Many work from the overlooked hutong alleyways just a short walk from Beijing's busiest railway terminals through which around 450,000 passengers traveled yesterday.
Many scalpers move among the sea of travelers, buying tickets and posting them onto online forums via Internet bars before delivering them to buyers.
Zhou said his boss has good connections at the railway station that mean they can get hot train tickets to destinations in northeast and eastern China, even before official sales begin.
Insiders said people in authorized Ministry of Railways ticket offices get kickbacks in return for providing tickets to scalping operations. The selling price goes up as the network expands.
But, despite the claims, the ministry insisted the corruption does not start on its doorstep.
In an attempt to prevent their resale, the ministry began selling train tickets printed with ID card numbers for the first time yesterday.
Zhou, a Liaoning native, who has worked as a vendor and fast-food deliveryman, has been delivering scalped tickets for the past year because his tender age means he cannot be formally arrested.
He hopes to make good money during the holiday period.
"I can make thousands," the young man said.
The names of the scalpers have been changed to protect their identity