It's anyone's guess whether the introduction of an ID-based booking system can reduce the difficulties of buying a homebound train ticket during the transit peak season of the coming festival.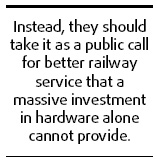 Yet, the pilot program is still more than welcome because it shows that while railway authorities splashed on transportation infrastructure projects, they also recognized the importance of investing in software to improve service.
The Ministry of Railways recently announced that a new ID-based booking system will be implemented in 37 stations to crack down on scalpers during the annual transportation peak.
The ticket selling pilot system, announced last Friday, requires passengers to show their ID cards or other identifications when purchasing train tickets at 37 stations in the Guangdong and Hunan provinces in southern and central China, and also the southwestern province of Sichuan.
Spending lots of money on building railways, especially for high-speed trains, has become an effective way for the Chinese government to prop up badly needed domestic demand and help lift the economy out of the worst global recession in decades.
In 2009 alone, the country's railway investment surpassed the total amount from 1995 to 2005, reaching 600 billion yuan ($88 billion), up 79 percent year-on-year.
With 2.1 trillion yuan ($300 billion) worth of rail construction projects currently under way, the Ministry of Railways said that 26,000 km of new lines, including 9,200 km of high-speed lines, will be put into operation in the next three years to ease the pressure on the country's overburdened rail network.
As a developing country, China indeed needs better railway infrastructure to both support its future economic growth and meet public demand for comfortable train travel.
But the massive investment in railway infrastructure is not sufficient to answer the challenge the railway department faces.
China's railways are expected to carry 210 million passengers during the upcoming 40-day travel peak as people flock home for the traditional Spring Festival holiday.
The system will take effect during the holiday traffic peak season, from Jan 30 to March 30. The Spring Festival, or China's Lunar New Year, falls on Feb 14 this year.
Related readings:


 China pilots name-based train ticket sales


 China to start pilot system of name-based train ticket


 37 stations to pilot name-based train ticket system


 China launches crackdown on online railway ticket touts
The current capacity of railways is far from enough to ensure that everyone can get their train tickets in a timely fashion to travel across the nation to reach their family reunions and vacations.
Worse, the expected ticket shortage this time of the year has long been exacerbated by scalpers, who stockpile tickets for fat profit margins.
The new real-name ticket selling system, in theory, will technically root out speculative ticketing hoard to ease the headache of another severe ticket shortage for both Chinese policymakers and hundreds of millions of travelers.
But longer lines at the ticket offices and during the time of boarding caused by the more complicated procedure may also invite some public complaints.
Under such circumstances, railway authorities should not slow their pace to expand the pilot system nationwide. Instead, they should take it as a public call for better railway service that a massive investment in hardware alone cannot provide.