Nation a global driving force for science, tech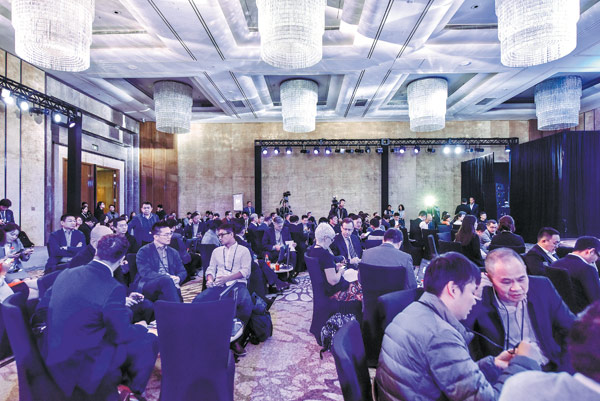 Delegates to the Fortune Brainstorm Tech International Conference exchange opinions on the sidelines of the event. [Photo/China Daily]
Chinese inventions and technologies are changing the international economy and the country has become a driving force for global innovation, business leaders and officials said on Tuesday at the Fortune Brainstorm Tech International Conference.
The conference opened in Guangzhou on Dec 5.
Once regarded as the imitator of other countries' science and technology, China is now seen as a pioneer of cutting-edge tech.
The country has spawned a number of innovative companies with advanced technologies in e-commerce, finance, medical care, artificial intelligence and the ecotour sectors, according to the participants at the conference.
In less than a decade, China started to play a leading role in global e-commerce.
The country's number of online shops ranks No 1 in the world. Chinese e-commerce giants have completed transactions with high speed and efficiency, which has changed Chinese shopping habits.
Roger Luo, president of DJI Innovation Technology, a leading Chinese drone-maker, said the development of his company shows how innovative Chinese technology companies can start a new industry without imitation and plagiarism.
"DJI was born in China and satisfies the needs of the world," Luo said.
Zeng Guangming, co-founder and chief content officer of Kuaishou, a Chinese video sharing and livestreaming app with more than 40 million daily users, said: "We learned AI technology from overseas, applied it to the short video streaming industry and set up the company.
"This can happen in China and all of the startups there can have similar opportunities," Zeng said.
China is the largest drug development country in Asia. Local companies have made progress in the collection of medical data and in application areas, where technology plays a key role.
Li Chuyuan, chairman of Guangzhou Pharmaceutical Group, said his company would in the future combine Chinese and Western medical sciences to promote the modernization and internationalization of traditional Chinese medicine.
Nathan Blecharczyk, chief strategy officer of Airbnb, the United States-based home sharing services provider, said there are 8.6 million Chinese users on Airbnb and 120,000 Chinese families share their houses on the platform, adding that the Chinese market is growing at an extraordinary rate.
He said China is set to become the biggest market for Airbnb by 2020, given the rapid growth in recent years of the country's inbound and outbound tourism.
Tang Ning, founder of Chinese microfinance company CreditEase, said Chinese financial technology will integrate finance, big data, AI and other technologies to build a global fintech brand.