Alibaba launches poverty-relief fund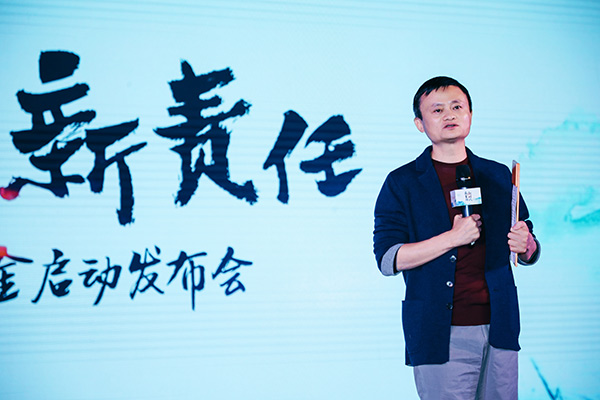 Alibaba Chairman Jack Ma makes his pledge to combat poverty at the launch of the Alibaba Poverty Relief Fund on Friday in Hangzhou, capital of Zhejiang province. [Provided to China Daily]
E-commerce behemoth Alibaba Group Holding Ltd has pledged 10 billion yuan ($1.51 billion) over the next five years to combat poverty in China through a special fund established on Friday.
The Alibaba Poverty Relief Fund serves the company's "strategic goal" for poverty alleviation using its technological prowess and existing ecosystems, said Chairman Jack Ma, who will personally oversee the fund.
"We believe the end of poverty is a goal that can be achieved and our fund embodies our long-standing commitment to give back to society," Ma told a news conference in Hangzhou, which saw the attendance of the vast majority of its 36 partners, a rarity since its historical initial public offering in 2014.
The fund primarily concentrates on education, women's empowerment, entrepreneurship and environmental protection, each led by a partner with an area of focus.
For instance, CEO Daniel Zhang is dedicated to helping rural entrepreneurs sell local produce to other areas, while Lucy Peng, executive chairwoman of Ant Financial, an Alibaba-related payment firm, leads initiatives on empowering women to lift themselves out of poverty.
Contributions to the fund will come from Alibaba's partners and employees, as well as a charity that takes in 0.3 percent of the company 's annual revenue to support social responsibility initiatives.
"We don't want to help poor people by only offering them fish, but enable them to be self-reliant so they know how to fish for themselves," Ma said.
President Xi Jinping has stressed the importance of precision in the battle against poverty as Beijing is on course to achieve its goal of poverty eradication by 2020.
Targeted poverty-relief measures will increasingly rely on the adoption of technologies and Alibaba is in a good position to put that expertise into practice, said Wang Ming, head of the Institute for Philanthropy at Tsinghua University in Beijing.
"The difficult part in poverty relief is to be able to target the right population in need," he said. "Alibaba's strength in mobile internet and big data analytics can be used to address that issue and take charitable causes to new heights."
Internet companies have been at the forefront of social conscience issues. Tencent, which is known for its iconic messaging app WeChat, has helped pioneer high-profile fundraising by mobilizing its near-1 billion active users for an annual online charity day gala on Sept 9.
Liu Qiangdong, CEO of JD.com Inc, China's second largest e-commerce player, said on a microblog post a week ago that the company would help lift a village in Hebei province out of poverty in three years and boost residents' income by 10 times in five years.