Xi's vision to drive internet firms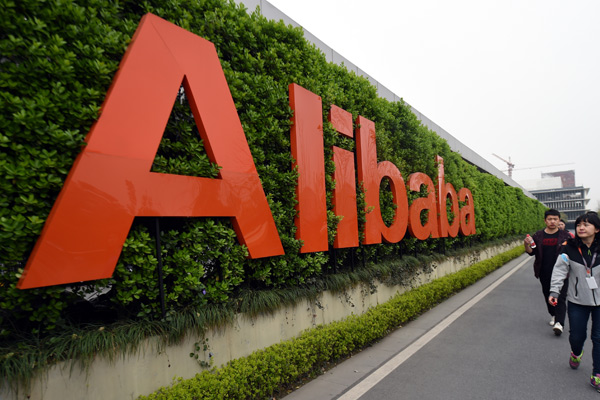 Pedestrians walk past the headquarters of Alibaba Group in Hangzhou, Zhejiang province. [Photo/Xinhua]
Alibaba, JD.com, among high techs to help in nation's development
Chinese internet firms said they are gearing up their pace as General Secretary Xi Jinping's speech gives the economy new impetus to soar through increased innovation and a wave of entrepreneurism.
By leveraging technological prowess and business model innovation, tech giants and startups alike expressed their readiness and confidence to satisfy "people's ever-growing needs for a better life".
Jack Ma, chairman of Alibaba Group, said entrepreneurs are the "pivotal forces" to help ease "unbalanced and inadequate" development, which stands in the way of people's pursuit for a better life.
"To us, this spells both indispensable responsibilities and huge opportunities," he said, adding that companies should utilize their vast resources and financial abundance to bring affluence and promote equal development.
Alibaba and JD.com, another e-commerce major, have sharpened their focus on precise poverty reduction employing big data technologies. The duo empowered the nation's poverty-stricken population by allowing them to sell local specialties online and boosting sales via digital marketing measures.
"Under the guidance of the Party, JD.com is a major beneficiary of the deepened reform and constant improvement of business environment," said the company's Party Secretary and Vice-President Long Baozheng.
"We will assist the structural supply-side reform and rejuvenate the real economy by opening up our platforms and capabilities, and shoulder more corporate social responsibilities."
China's new economy, which includes the adoption of information technologies across various sectors, is estimated to account for 12 percent of the country's GDP this year, according to a report published last month by Renmin University of China and China Chengxin Credit Management.
In his address to the 19th CPC National Congress, Xi called for more efforts to foster new areas of growth through further integration of the internet, big data, and artificial intelligence with the real economy.
Eric Jing, CEO of fintech giant Ant Financial, said his firm is committed to better serving the real economy through digital means, which effectively lowers financing barriers for smaller merchants and offers easier access to loans.
"We will make sure that our payment, wealth management and credit services can improve the welfare of the unbanked and underbanked population, and optimize the operating conditions of hundreds of thousands of mom-and-pop shops," he said.
Agreed Zhong Yongjian, Party secretary of Meituan Dianping, a leading group-buying and dining information platform. He said deepened integration between the internet and the real economy is in accordance with the company's mission to facilitate "better eating and better living" through information technologies.
The site has poured in resources to Party building in the company, establishing a Party member database and developing a smartphone application that allows them to take online courses and watch broadcasts of Party meetings.
Bike-sharing firm Mobike will continue to firmly implement the major development concepts of "innovation, coordination, greening, opening up and inclusiveness", bringing premium services to its 200 million users who favor low-carbon transportation.
"We will throw full force into building a smart society by adopting internet of things and artificial intelligence technologies," said Wang Xiaofeng, Mobike's co-founder and CEO.