New iPhone may prove too costly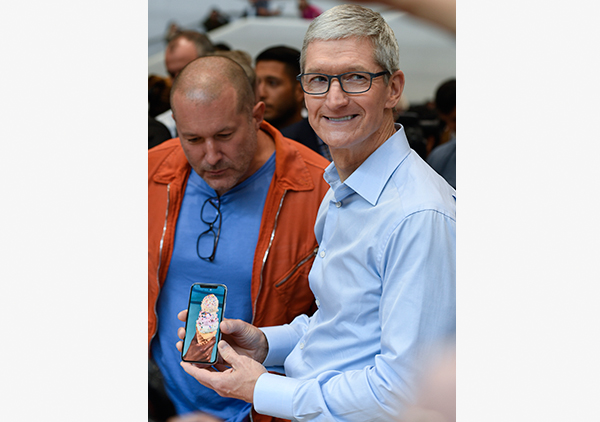 Apple Inc CEO Tim Cook introduces the iPhone X at its release in Cupertino, California. [Qi Heng/for China Daily]
Industry experts warn price tag may put it beyond reach of most Chinese users
Apple Inc unveiled its most advanced iPhone on Wednesday, whose design is impressive enough to spark enthusiasm but its high price tag may prevent Chinese consumers from opening their wallets, analysts said.
iPhone X, unveiled by CEO Tim Cook at the company's new $5 billion headquarters in Cupertino, California, is the most important product for Apple to fend off mounting competition from Huawei Technologies Co Ltd and Samsung Electronics Corp.
Starting from 8,388 yuan ($1,282) in China, the 10th anniversary iPhone features a full-display screen, and supports a bunch of augmented reality functions. There's a 3-D facial recognition sensor instead of a fingerprint scanner for unlocking the phone, approving payments, and creating animated emojis based on facial expressions.
Jia Mo, an analyst at global consultancy Canalys, said the iPhone X marks a big leap in smartphone design and it is creating a new interaction experience between users and smartphones.
"The iPhone X is very impressive, but it is by no means a mass market product in China. It is targeting a very, very high-end segment," Jia said.
According to him, the high price tag in China, about 11 percent higher than that in the US, will discourage many consumers from entering Apple stores. "It is too expensive, after all China is still a developing country," Jia said.
Apple's shares slid 0.4 percent to $160.86 on Tuesday after it announced that the iPhone X won't go on sale until Nov 3, far later than the two new models iPhone 8 and 8 Plus which will be available on Sept 22.
"The production delay means that sales of iPhone X won't be included into Apple's 2017 fiscal year which will end in September, denting investors' confidence a little bit," said Xiang Ligang, chief executive of telecom industry website Cctime.
Also, Apple reportedly has faced manufacturing difficulties with the new handset, which may result in shortage during the upcoming holiday season, he added.
In China, once the biggest growth driver for Apple, the company has seen its revenues slide for several quarters as users switched to domestic phones. In the second quarter of this year, Apple was the fifth-largest smartphone vendor in the country, with a market share of just 8 percent.
Huawei is scheduled to unveil its flagship handset the Mate 10 in October, which will be powered by its latest AI chipset, putting pressure on Apple.
Fang Liu, vice-president of Lexin, a major fintech company, said although the iPhone X has a high price, paying in installments has become a phenomenon among internet users in China. The trend allows iPhones to be more affordable for more people in China, in particular young consumers who have a taste for trendy and high quality products.