Russian robotics companies prefer Chinese partners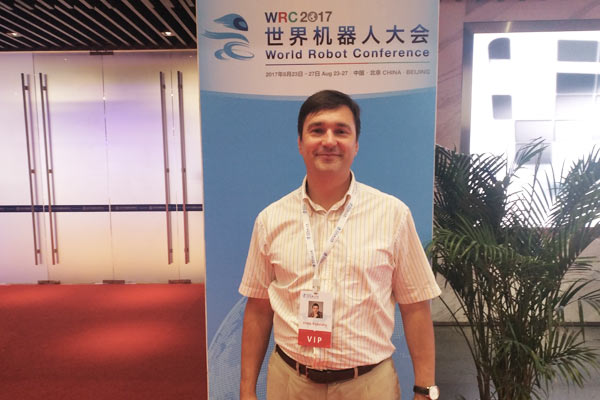 Vitaly Nedelskiy, president of Russian Association of Robotics. [Photo by Zhu Lingqing/chinadaily.com.cn]
For Russian Association of Robotics (RAR) President Vitaly Nedelskiy, who attended the World Robot Conference alone in China last year, bringing seven Russian robotic companies with him to participate in this year's event is a big step.
"This year we brought seven companies, almost all of which came here for the first time. Maybe next year we can bring 17 companies and find some cooperation projects," Nedelskiy said in an exclusive interview with chinadaily.com.cn.
The WRC 2017, themed "Win-win Collaborative Innovation Toward the Building of an Intelligent Society", gathered 15 leading international robot organizations and more than 100 robotic companies from August 23 to 27 in Beijing.
Admitting that cooperation between Russia and China in the robotics field is still at an early stage, Nedelskiy said this is because Russia, although it has competitive mathematical schools and scientists in the field of artificial intelligence, is about seven years behind China in robotic industrialization.
"In addition, compared to China's big robotic market, Russia's market is relatively small for Chinese robotic companies," he said.
But the good sign is cooperation potential between the two countries is emerging and successful examples have sprung up in the last two years, Nedelskiy added.
He noted the Russian-Chinese Investment Fund and the Skolkovo Foundation signed an agreement last June establishing a medical robot center and industrial production of medical robots in China's Shaanxi province.
"The next stage of the project will be the localization of the medical robot in China in close cooperation with Chinese partners, including Panther Healthcare, investors and medical institutions, " he said.
Plans are to create a production site in Shaanxi's Xixian Fengdong Technopark for the production of medical robots on an industrial scale using Russian high technology and the most effective component solutions, Nedelskiy added.
Another example Nedelskiy mentioned is Shanghai STEP Robotics Co Ltd, which has cooperated with a Russian enterprise to produce industrial robots in Russia's Novosibirsk.
Using parts that are assembled in China, the project provides for assembly production and gradual localization of universal 6-axis industrial robots.
"The biggest benefit of cooperation between Russian and Chinese robotic companies should be that one part can do something better than the other," Nedelskiy said.
"I believe it will be much more interesting for the two countries' research institutes, R&D centers or joint-ventures to develop some new robots together and sell worldwide," he said.
Nedelskiy proposed that robotic companies should go to the international market and compete with the market's best companies if they want to be more competitive.
"As the domestic market offers too many preferences, such as tax and language, for domestic companies, going global is the only way to check what you are doing is well or not. Try to compete with the biggest one in Germany or in the US," he said.
Nedelskiy said Chinese companies' manufacturing capability and cost control ability is attractive to Russian companies.
"They want to choose Chinese partners rather than German or Japanese partners because at the same technology level, Chinese companies can offer a lower price," he said.
In addition, the Belt and Road Initiative proposed by Chinese President Xi Jinping can offer a good platform for communication between companies, Nedelskiy noted.
"Good communication is the first step for new business. The same goal and same value matter a lot," he said.