Guizhou to become China's 'Big Data Valley'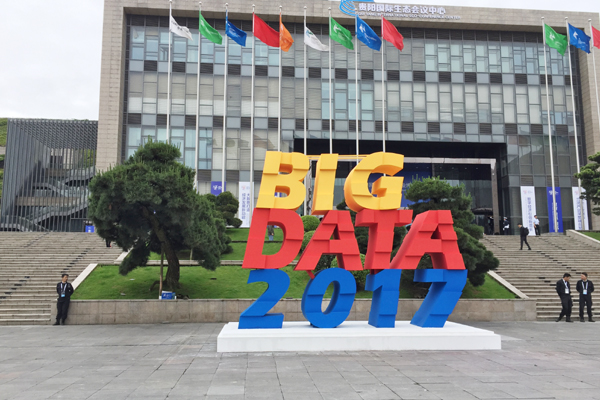 The China International Big Data Industry Expo 2017 in Guiyang, Southwest China's Guizhou province, on May 25, 2017. [Photo by Zhang Jie/chinadaily.com.cn]
The China International Big Data Industry Expo 2017 has kicked off in Guiyang, capital of Guizhou province in Southwest China, and sparked conversation among many.
Tens of thousands of people are expected to attend the four-day event, held to showcase, and discuss, the possibilities and opportunities available in the big data industry.
A range of activities and forums will be held, and topics discussed at the expo will include the future of the digital economy, digital security and risk control, the national big data pilot zone, Artificial Intelligence (AI) and smart manufacturing.
A nearby taxi driver, based in Guiyang , said the big data was life changing. "I use online maps to select specific roads, making sure there are no blockages or delays, every day," he said to reporter.
By the end of last December, 29 million internet users were based in Guizhou, accounting to 80 percent of the provincial population. The number of mobile internet users also reached 25 million people.
Due to the mass amounts of online and mobile users, numerous companies have been willing to invest in the big data industry in Guizhou. Because of this, the local government continues to provide favorable policies and financial support to big data companies.
These companies, who have set branches or joint ventures in the province, include Alibaba, Qualcomm, IBM, Huawei, Tencent, Baidu, Lenovo and Foxconn. The province has also been labeled as a great place for smaller companies looking to startup in the industry.
More than 400 companies, related to the big data industry, have further been attracted to the province's Guian New Area, which was established in 2014.
Baishan Could, a startup set in Guian, during 2015, last year achieved a revenue of 200 million yuan, and the company expects that figure to triple this year.
"The government gives us strong support," Dai Xiang, the company's co-founder, said when explaining why the company decided to open in Guian.
To train talents for developing the big data industry in Guizhou, the local government built the Huaxi University Town, consisting of nine local universities and 110 big data companies. Because of this, college students are able to obtain work experience at the site, practicing their skills in the companies, before graduating from their studies. Companies involved also benefit by being able to preselect employees from the group.