Bike-sharing sector heats up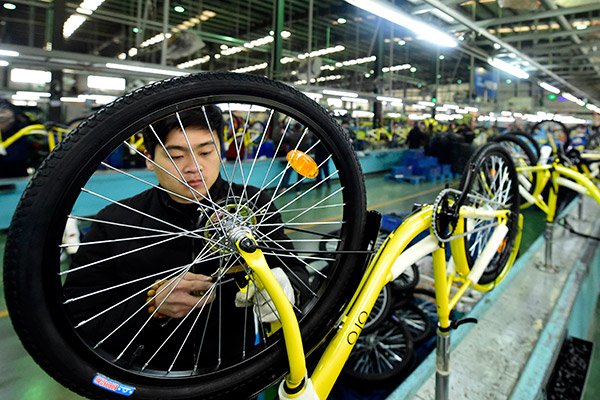 A worker adjusts the parts of an ofo bicycle in a production plant of Flying Pigeon Cycle Development Co Ltd in Tianjin. The bicycle manufacturer has entered a partnership with the bike-sharing startup. [Photo/Xinhua]
Ofo locked in fierce battle with Mobike for slice of growing market
Competition in China's bike-sharing sector is set to intensify as the startup ofo announced on Wednesday it had raised 3.1 billion yuan ($450 million) from investors including Digital Sky Technology.
The move came shortly after its rival Mobike said it had received a strategic investment injection from Singaporean company Temasek Holdings, bringing the total fund it has received since 2017 to more than $300 million.
Ofo said the new funding has increased its valuation to more than $1 billion. Other investors include Didi Chuxing, China's largest ride-sharing company.
Dai Wei, chief executive of ofo, said in a statement: "We are determined to become a global company and we will offer better services for consumers around the world."
The three-year-old company has so far accumulated more than 20 million subscribers and has provided more than 300 million bike-sharing rides. Its services are currently available in China, the US, the UK and Singapore.
Ofo is locked in a fierce battle with Mobike for dominance in China as a growing number of local consumers look to cycling for transportation.
Mobike, which did not disclose its valuation, has partnered with the Foxconn Technology Group to double its annual cycle production capacity to more than 10 million units.
Other startups have also been lured in. The Jiangsu-based bike-sharing firm Youon said on Tuesday it had raised an undisclosed amount from backers including Ant Financial Services Group, the financial affiliate of Alibaba Group Holding Ltd.
Zhang Xu, a Beijing-based transport analyst for internet consultancy Analysys, said ofo and Mobike are starting to attract customers with handsome subsidies.
Zhang said: "The bike-sharing sector has become one of the most popular investment destinations, because investors know that internet-connected bikes can play a central part in the era of the internet of things."
In 2016, ofo accounted for 51.2 percent of China's bike-sharing sector, and Mobike accounted for 40.1 percent, according to the Chengdu-based Big Data Research Center.
Guo Jianrong, secretary-general of the Shanghai Bicycle Association, estimates Shanghai currently has more than 280,000 internet-connected bikes and the number will rocket to 500,000 by June this year.