Year-ender: Most talked-about topics on the Chinese internet
There is no doubt that the internet and smatphones have changed everything from the way people shop to how they communicate.
As internet penetration levels keep rising, steady streams of buzz words related to the industries were created and went viral in the country.
Here we excerpt some representative topics that were most discussed across the internet this year.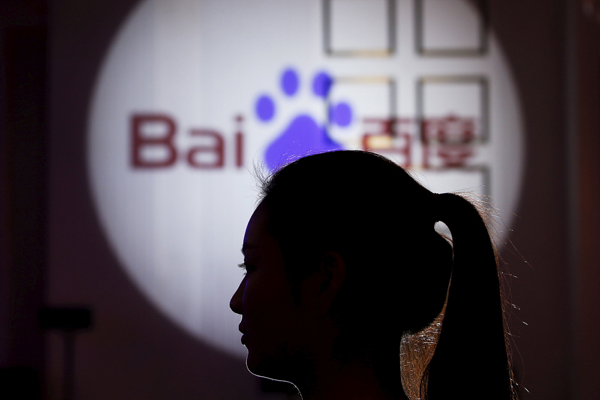 A woman is silhouetted against the Baidu logo at a new product launch from Baidu in Shanghai on Nov 26, 2015. [Photo / Agencies]
Young man's death causes an uproar for online search giant
In April, Chinese internet giant Baidu Inc was criticized for influencing the treatment choice of a cancer patient, Wei Zexi, by presenting misguided medical information.
Wei, 22, died after undergoing a controversial cancer treatment at a Beijing hospital, which the Wei family found through Baidu's online search platform.
The case was hotly discussed in the country's online community and the Cyberspace Administration of China (CAC), the nation's internet regulator, later asked Baidu to improve its paid-for listings model and to rank the search results mainly according to credibility rather than price tags.
On June 25, the CAC publicized a regulation on search engines, ordering search providers to ensure objective, fair and authoritative search results.
All paid search results must be labeled clearly and checks on advertisers should be improved, according to the regulation. There also should be a limit on the number of paid results on a single page.
Moreover, the practice of blocking negative content concerning advertisers has been banned.