E-sports organizer mulls Olympic scale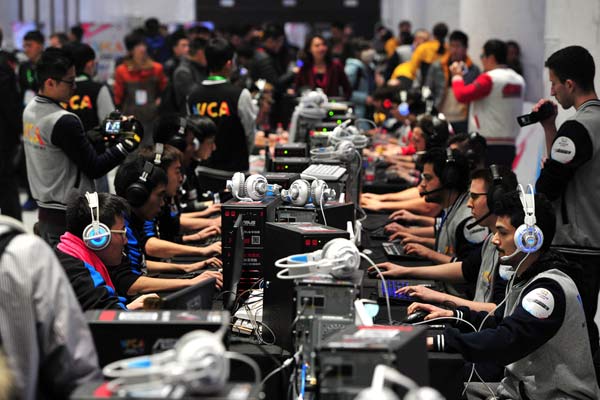 Contestants are pictured at the World Cyber Arena held last year in Yinchuan, capital of the Ningxia Hui autonomous region, on December 17, 2015. [Photo/VCG]
The World Cyber Arena, or WCA, one of the premier organizers of global e-sports events, is gearing up to expand its overseas businesses in a bid to build an Olympic Games-equivalent for the global e-sports tournaments.
On Friday, in Yinchuan, capital of the Ningxia Hui autonomous region, the WCA signed agreements to implement mutual cooperation with e-sports alliances and associations of 20 countries and regions across the globe including Brazil, Russia and the Netherlands.
"Only by cohesion, especially by maintaining diversity, can we usher in a booming e-sports industry in the future," said Li Yanfei, vice-president of the World Cyber Arena.
Li added that WCA would like to share its brand and experience in e-sports with overseas partners.
In order to carry out the cooperation, the company will give the exclusive rights of WCA tournament brand to its partners, providing both technical and prize support to promote the development of overseas tournaments.
"Starting the e-sports Olympics project will help the WCA to better tap into the gaming market in various countries and regions. By appealing to the spirit of national honor, the tournament will attain more attention, as well as the recognition of the mainstream society," said Teng Hua, president of CNG Games Research Center, a Beijing-based gaming research institution.
With government support and the changing social environment, China is now the biggest e-sports market worldwide by the number of players. At the end of 2015, there were 124 million e-sports users in China and the output value of the gaming sector hit 27 billion yuan ($3.91 billion). The overall market of e-sports in China is set to surpass 50 billion yuan in the future, according to a report released by iResearch, a Chinese consultancy company.
In September, China's Ministry of Education added e-sports and management as a new major for vocational schools which will be launched nationwide from 2017.
Teng noted that while the Chinese e-sports industry is currently at the best stage for development, there still exists challenges for gaming companies going global.