Royole builds flexible display plant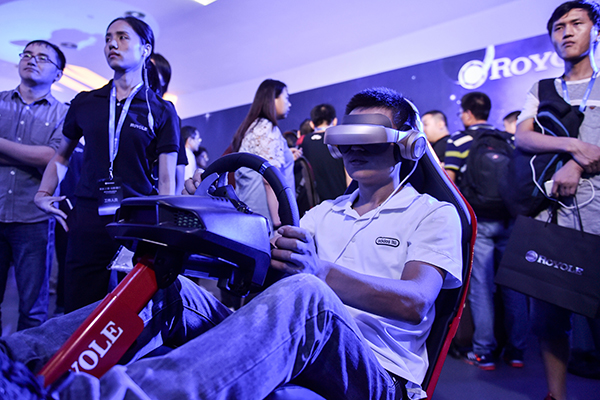 A man tries out Royole's VR device in Shenzhen, Sept 23, 2016. [Photo/Xinhua]
Shenzhen-based Royole Corp's new flexible display plant will start operations in August next year, a company official said.
Flexible displays are screens or panels used in wearable products, mobile devices and consumer electronics.
They constitute a highly competitive industrial segment now.
Work on Royole's 11-billion-yuan, 100,000-square-meter production line at Longgang district of Shenzhen, Guangdong province, started in the second half of 2015.
Jason Fan, public relations director of Royole, said the plant will likely offer the company a headstart over potential competitors, given its annual output capacity of 50 million pieces worth 18 billion yuan.
"We have already signed cooperation agreements with a large number of Chinese and international companies," he said, without identifying them.
Founded in 2012 by a Stanford University graduate, Royole has been focusing on innovative display technologies and virtual reality consumer electronics.
So far, it has received 1.7 billion yuan in investment, including 500 million yuan from Warmsun Holding Group. The company is valued at over $3 billion now, according to Fan.
"As the popularity and penetration of wearables and mobile devices increase, so too will demand for innovative flexible displays," said Jerry Kang, principal analyst of display research at consulting and research firm IHS Markit, in a report in July.
IHS Markit said revenue from flexible displays is expected to increase more than 300 percent, from $3.7 billion in 2016 to $15.5 billion in 2022, and will comprise 13 percent of the total display market revenue in 2020.
"Only a few suppliers such as Samsung Display and LG Display are now regularly supplying flexible displays to the market. However, many more panel makers are attempting to build flexible display capacity," Kang said.
Royole attracted global attention in July 2014 when it unveiled the world's thinnest full-color flexible display that can be bent or rolled. At about 0.01 mm, the display is as thin as an onion skin, or less than one-fifth the diameter of the human hair.