Home-made ticket system for airlines flies high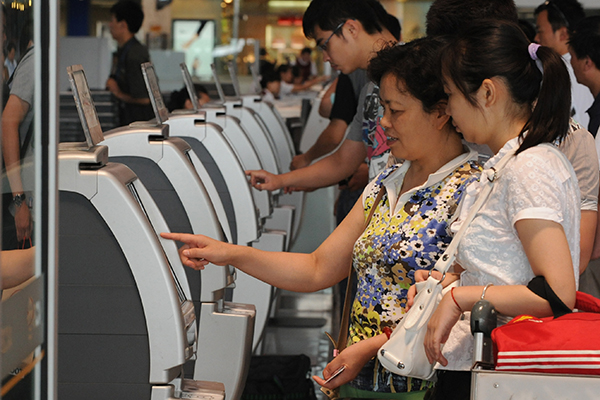 Passengers use the self-service boarding system at the Beijing Capital International Airport. [Photo/China Daily]
As the middle class takes to the skies, the country's carriers use TravelSky's software
Beijing-based China TravelSky Holding Co, a State-owned aviation information provider, plans to expand its research and development efforts so as to innovate and upgrade its electronic ticket system, the first such China-made software.
Flag carrier Air China Ltd transferred to the completely home-developed TravelSky system in April. Barring a few, most other domestic airlines also use it now, saving more than 60 percent of costs that imported software entails.
TravelSky has ensured safe custody of passenger, flight and airline data collected so far.
TravelSky's R&D investments for the system now account for more than 35 percent of its total costs.
"For every flight ticket that is sold through our e-ticket system, we charge only one-sixth of commission charged by foreign e-ticket systems," said Huang Yuanchang, chairman of the board of supervisors at TravelSky.
"Our average profit margin is 35 percent to 40 percent, and this is the best performance compared with the peers globally."
In 2001, the China Civil Computer and Information Center brought all airline companies together to establish TravelSky Technology Ltd, to provide them with accurate and authentic information on airports and flights.
It is China's main e-ticket system and the world's third-largest in terms of business-handling capacity. A passenger can search flight information, buy tickets, change or cancel flight reservations, and modify remarks.
Last year, TravelSky netted sales revenues worth 5.5 billion yuan ($825 million) and generated profits of more than 2 billion yuan, the company said. Sales have surged in recent years as the Chinese have been overcome by wanderlust of late.
The surge will continue in the next decade as China's emerging middle class takes to the skies. Passengers will increase by threefold, according to a report by global consulting firm McKinsey & Co.
Peng Mingtian, deputy chief engineer of the R&D center at TravelSky, said: "At the moment, the 24x7 ticketing software is taking a lot of pressure. If the backup system malfunctions or stops for whatever reason, nearly all domestic airlines will face problems.
"Our biggest challenge, therefore, is to preempt problems because any problems would erode customers' confidence, which would make it difficult to promote the system again. We need to ensure its safe operation even as we upgrade it."
More than a decade ago, TravelSky started trials of the software. It also developed China's first self-check-in system at airports.
Back in 2003 and 2004, major airlines started using electronic systems to sell tickets online. In the first few years, volume as well as sales surged 300 percent annually.
TravelSky completed restructuring its main business and assets, and got listed in Hong Kong in 2008.
In its niche, TravelSky doesn't have any rivals domestically as entry barriers for private players are high.
"We aim to lure more foreign airlines to shift to our system. We also want to further improve the system quality and lower the costs," Huang said.