Global smartphone sales in Q3 driven by strong growth in China: GfK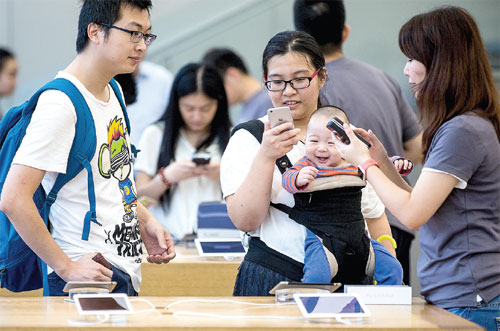 Customers look at iPhones in an outlet of Apple Inc in Hangzhou, capital of Zhejiang province. [Photo by Xu Kangping/For China Daily]
BERLIN - Global smartphone sales in the third quarter of 2016 grew by 7 percent year on year, mainly driven by continued strong growth in China, together with increases in all other regions except North America, German market research group GfK reported on Tuesday.
According to the group's report, a total of 353 million smartphones have been sold in the third quarter worldwide. In China, a total of 113 million smartphones have been delivered to customers, representing a growth of 15 percent compared with the same period in 2015.
Overall, GfK forecasted global smartphone demand to amount to 1.4 billion units in 2016. Total smartphone demand in China is forecast to be 444.7 million units in 2016, rising by 15 percent year on year.
Smartphone revenues in the third quarter totaled $104 billion worldwide, in which $31.7 billion came from the Chinese market. The revenues in 2016 is forecast to be $421.8 billion, a year-on-year increase of 6.0 percent.
"Smartphone sales growth continued at a steady pace in the third quarter with year-on-year growth across all regions except North America," said Arndt Polifke, global director of telecom research at GfK, adding, "China remained the key global growth driver in the third quarter.