Oppo beats Huawei, Xiaomi to become top smartphone vendor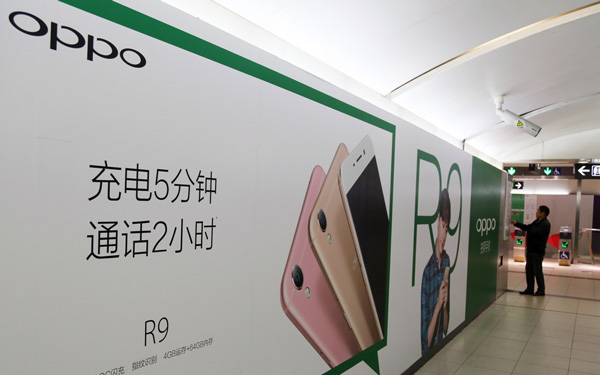 An advertisement for OPPO R9 smartphone displayed at a metro station in Beijing, April 2, 2016. [Photo/IC]
One of the world's most fiercely competitive markets for smartphones welcomes a new leader in the quarter to September.
Oppo Electronics Corp has overtaken Huawei Technologies, which along with Xiaomi Corp used to be the leader, to become the top smartphone vendor in the country in the third quarter of this year.
Statistics unveiled on Tuesday by industry consulting company Counterpoint Technology Market Research showed that Oppo cornered a 16.6 percent share of the overall shipments on the Chinese mainland in the quarter, up from 9.9 year-on-year.
Another domestic brand Vivo Mobile Communication Technology was close behind with a 16.2 percent share, compared with 8.2 percent previously.
James Yan, Counterpoint research director, said that shipments for Oppo grew 82 percent year-on-year while Vivo recorded the highest growth in China during the quarter as demand rose 114 percent.
Yan said Oppo's flagship R9 smartphone became the top-selling model in China for the period.
Counterpoint reckoned that total smartphone shipments on the Chinese mainland crossed 120 million units in the quarter.
According to earlier reports in China Daily, vendors such as Xiaomi and Huawei are following the trend set by Oppo and Vivo: expanding their offline retail presence by forming brick-and-mortar partnerships in small cities, as online sales of smartphones plateau, signaling an important change in their efforts to wrestle with the slowing demand in the country.