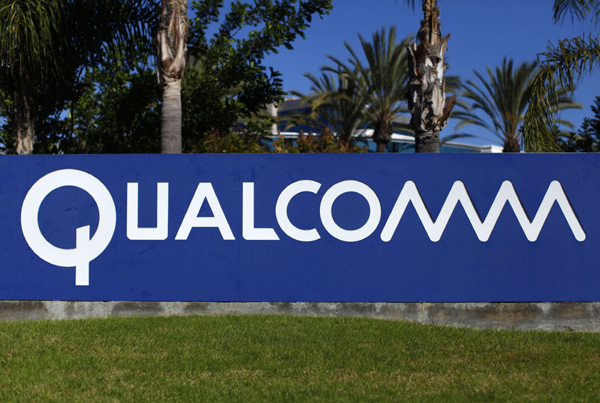 A Qualcomm sign is pictured in front of one of its many buildings in San Diego, California November 5, 2014. [Photo/Agencies]
Thundercomm will have access to intellectual patents from US chip giant
Qualcomm Inc on Monday set up a joint venture with a Chinese tech firm to develop technologies used in drones, virtual reality goggles and other "smart devices" that the US chip giant believes will be the next big thing after the smartphone boom.
The new JV, named Thundercomm, will provide products and technologies for local firms which are building the next-generation drones, robots, VR devices and wearables, according to a statement from Qualcomm and its Chinese partner Thunder Software Technology Co Ltd, or Thundersoft.
The registered capital of Thundercomm was 18.74 million yuan ($2.8 million) and the Beijing-based Thundersoft will control nearly 82 percent of the JV, according to a statement from Thundersoft. An investment subsidiary of Qualcomm took the rest of the new company's stake.
The JV will be located at the Fairy Peach Data Valley in Yubei District, southwest China's Chongqing municipality. The inland mega city has become one of the world's largest manufacturing bases of the smart devices in recent years.
Zhang Shutao, general manager of Thundercomm, said the JV will get to use intellectual patents from Qualcomm.
"We will have a lot opportunities to work with Qualcomm in IP, ... the JV will find ways to help customers get access to Qualcomm's IPs," Zhang said.
Frank Meng, chairman of Qualcomm China, told China Daily in an exclusive interview earlier this month Chinese startups are set to lead the world in innovation in an array of emerging sectors.
Chinese tech firms are making technological breakthroughs instead of waiting for ideas imported from overseas companies, said Meng.
"Local vendors are coming up with gigantic amount of ideas that suit requirements of Chinese customers. Qualcomm wants to be a part of this new trend that will unlock another trillion-yuan market," said the 56-year-old.
Ma Longwen, an analyst from Changjiang Securities Co, said the new JV will give an edge to Thundersoft in many areas, including drone making, smart automobile and VR.
"It requires a large number of high-end chips to make a drone, as global orders for drones reaching the highest level on record, the JV is facing a huge market demand because it is endorsed by Qualcomm technologies," according to Ma.
While sectors such as VR and operating system used in automobiles are not big today, they are set to receive huge user base like smartphones did, he added.
The establishment of Thundercomm was also the first major China investment from Qualcomm since it set up a Guizhou-registered firm to manage investments on the Chinese mainland in January.
Qualcomm is moving its investment focus to inland provinces to echo a number of national strategies aimed to boost economy in the less-developed regions taking advantage of the Internet and new technologies.