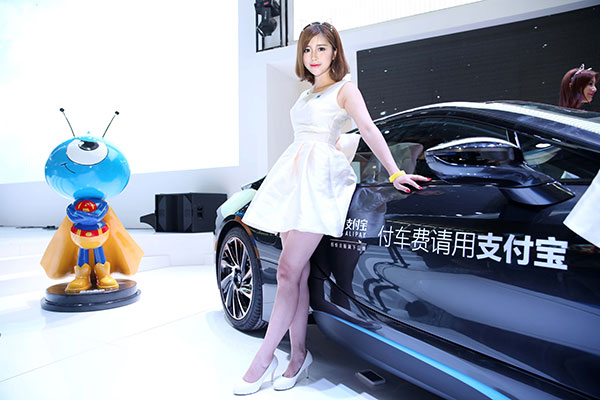 A model promotes Alipay service for Zhejiang Ant Small & Micro Financial Services Group Co at the China Digital Entertainment Expo, known as ChinaJoy, in Shanghai.[Provided to China Daily]
Group-backed online bank receives initial permit from South Korean government
Alibaba Group Holding Ltd is expanding its Internet finance business beyond China, after a local lender it helped co-launch got an online banking permit from the South Korean government.
Zhejiang Ant Small & Micro Financial Services Group Co, the Internet financial affiliate of Alibaba, said on Monday that the South Korean government has given preliminary approval to K Bank, the Internet bank it is jointly launching with telecom company KT Corp and other investors.
South Korea also gave preliminary approval to the online banking application of Kakao Corp, operator of South Korea's leading messaging app KakaoTalk, one of whose partners is affiliated to Tencent Holdings Ltd, the operator of WeChat service.
According to experts, the new online banking permits are an effort by the South Korean government to inject new momentum in the sector amid slow growth and slim margins.
"K Bank has got permission from the South Korean government to start preparatory work," Ant Financial said, adding the lender will soon apply for a banking license before starting full-fledged operations.
K Bank will be allowed to offer all banking services, including handling deposits, loans, credit cards and providing wealth management products, Ant Financial said. It is not immediately clear as to how much stake Alibaba has in K Bank.
The move comes close on the heels of Paytm, an Alibaba-backed Indian mobile payment platform, getting the Indian central bank's approval in October for a payment bank.
"We will leverage our experiences in Internet finance services to help Indian and South Korean partners better serve small and micro enterprises," said Jin Xiandong, president of Ant Financial.
In September, Ant Financial obtained a license from Chinese authorities to launch an Internet bank in its home town of Hangzhou, Zhejiang province. As of November, it has served 430,000 enterprises, with outstanding loans hitting 5.2 billion yuan ($813 million).
Analysts said the intensified efforts by Alibaba to explore international markets demonstrate the company's ambition to build an Internet-based financial empire.