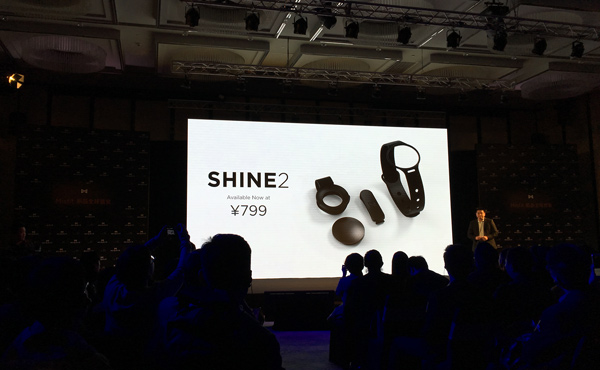 Sonny Vu, founder and CEO of Misfit Wearables, delivers keynote speech on October 21, 2015 during the global launch event of Shine 2 held in Beijing. [Liu Zheng/chinadaily.com.cn]
US smart bracelet maker Misfit launched Shine 2, the company's next generation activity and sleep monitoring bracelet in Beijing on Wednesday.
Given the rocketing growth of China's health and fitness industry, the move of the Silicon Valley company, making its new product global debut, is keen to woo existing Chinese users and new customers.
According to Sonny Vu, founder and CEO of Misfit Wearables, the reason why he chose Beijing to hold the launch event is because the company has many enthusiasts in the nation.
By comparison with the previous version, Shine 2 tracks activity and sleep more accurately with a 3-axis accelerometer and newly added 3-axis magnetometer.
The new device references Shine's iconic original design but features an even thinner aircraft-grade aluminum body, while retaining its signature 6 month battery life, 50 meters water resistance and modular design.
"We've packed a lot into Shine 2, adding more functionality into an even thinner body with the same battery life,"said Wallace Wu, Misfit's vice president. "We didn't compromise on craftsmanship or the user experience".
Users can easily see progress and tell time in a halo of rainbow-colored lights, or get motivated with Misfit Move, a feature that encourages users to be active with a vibrating nudge.
Bluetooth 4.0 technology is available for Shine 2 to make faster data syncing with Misfit's compatible mobile app, Misfit Link, where all of the data is stored. Misfit says wearers can tap the Shine to command other functions, including taking a selfie or playing music from a smartphone.
Text and call notifications and a silent vibe alarm are also new with Shine 2.
As the exclusive domestic e-commerce distribution platform of Misfit, Wang Xiaosong, vice-president of JD.com also attended the event. "Thanks to Misfit and other competing products, as a smart hardware sales platform, we've witnessed the establishment and development of the eco-system of China's smart wearable devices," he said.
Shine 2 comes in rose gold and carbon black, and is now available for pre-order on both JD.com and misfit.com for 799 yuan ($126).
The products will also be available in retail locations worldwide in November for $99.99.
Data from US research firm International Data Corporation showed that almost 50 million wearable devices will be shipped worldwide this year, up from 19.6 million in 2014.
Misfit, as one of the products sold on the market, ranks at the second in the top five most popular wearable devices in China, according to the South China Morning Post.
In December, 2014, Misfit raised a $40 million in financing from Chinese smartphone maker Xiaomi Corp, e-commerce giant JD.com Inc and venture-capital firms GGV Capital and Shunwei.
The investment comes just a few months before Apple Watch is expected to hit the Chinese market.
Led by chief executive Sonny Vu, Misfit is based in Daly City, California, but has a data science team in Vietnam. Its early investor and adviser John Sculley is Apple's former chief executive officer.