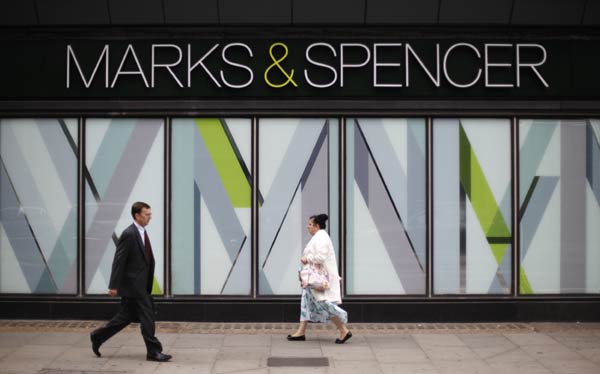 Pedestrians walk past a Marks & Spencer shop in northwest London. The British retailer plans to open new stores in Beijing and Guangzhou in the near future.[Photo/Agencies]
The staff at Marks and Spencer's new Beijing store were all smiles and helpfulness on Sunday afternoon-as they should be, only weeks after the flag-carrier of British retailing opened what is likely to become a crucial litmus test for its future here.
M&S's distinctive lettering lit up outside the 1,500 square meter site on Dec 18, in The Place, a top-end, CBD shopping mall.
The Beijing store features carefully edited collections for women, men and children, along with what it says are 1,200 food and drink items.
Affectionately known on UK turf simply as "Markies", the 125-year-old chain first appeared in China in 2008 and has 10 stores in the Shanghai area and 20 in Hong Kong, on top of 840 at home and 480 worldwide.
In the UK, Markies' food is considered quality convenience, with dedicated food outlets placed strategically in busy rail stations, city centers and high streets to snare workers on their commutes home: very much a treat for many after a hard day's work.
In Beijing, though, its new food hall, with just five fridges of its acclaimed pre-packed, main-meal goodies, feels more of an add-on than a money-spinner.
Just how many value-conscious Beijingers will be tempted to fork out 110 yuan ($16) on self-branded M&S instant coffee, 49 yuan on packs of pre-roasted potatoes, or 39 yuan for small portions of cooked Pilau rice is a moot point.
Chocolates, snacks and biscuits way-out-number ready-meals-for-one or couples or more-an affordable staple for many affluent British singletons and families alike.
What struck me most, however, was the whole store's overall lack of pizazz.
But maybe that is just what it wants in China.
Its branding here is Marks& Spencer London: that is the addition of the name of a fashion-conscious city that prides itself on trusted, often understated British quality.
M&S The Place feels comfy rather than exuberant. Its clothes stands offer sensible, un-flashy items, as well as those targeted at edgier younger buyers. The result is neither one nor the other, arguably a case-study in "too little of everything to make a serious impact on any", especially racked up against its neighbors in this upmarket mall, (Zara is next door), whose free-spending customers might not consider M&S' offerings serious alternatives.
On Sunday, there were healthy lines at its tills-but what many of the smart checkout assistants might not have realized is their new employer has just issued a double-whammy of bruising corporate news.
Just as the first scuff-marks were appearing on its new front doorstep in the Chinese capital, 10 days ago M&S's 65,000-strong global workforce received the shock news that Chief Executive Marc Bolland had suddenly quit, from what is the most-coveted job in British retail.
The bombshell came on the same day the company reported one of its worst Christmas sales performances for years.
M&S' clothes business is struggling, not only against other department store rivals such as Next and Debenhams but more notably with nimble younger fashion brands including H&M, Zara and fashion retailer New Look-all three of which, incidentally, are already strong in China.
Its Beijing grand opening was glitzy-but just months before, M&S actually shuttered five sites in China, put down to a re-jigged strategy to focus on high-spending cities and its target market of affluent Chinese.
M&S launched a clothing and food store on shopping site Tmall.com in January 2013, followed by a wine e-shop on JD.com in May 2014, and officials claim its first Beijing site is designed to build on its growing online popularity.
On Sunday, its pulling power resulted in an eclectic mix of buyers: Mums and dads with children, expensive looking middle-agers, trendy teenagers and 20-somethings, and a smattering of foreigners.
M&S says it wants to be known in Beijing for high quality and a wide range of products-and so its smorgasbord of offerings to suit all, might just be a clever path to success.
A Marks & Spencer's store in Nanjing, capital of Jiangsu province. The company recently opened a new store in Beijing.