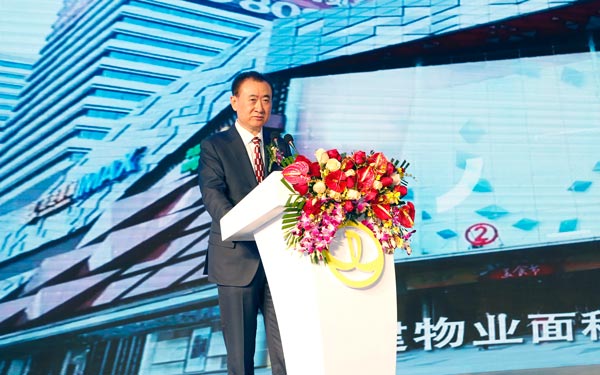 Wang Jianlin, chairman of Dalian Wanda Group, announces the company's acquisition of the United States-based Legendary Entertainment in Beijing on Jan 12, 2015. Wanda took control of the Hollywood film studio for $3.5 billion. [Photo/China Daily]
There must be more to Dalian Wanda Group's $3.5 billion deal for control of Hollywood film studio Legendary Entertainment than meets the eye.
The price appears reasonable as last year alone, as many as seven Hollywood flicks, including Legendary's Jurassic World, grossed more than $1 billion each at cinemas worldwide. Of the seven, Star Wars: The Force Awakens, which has already raked in $1.73 billion, is not yet done at the box office.
These are just box office receipts. Movie revenues also stream from DVDs, Blu-rays, television broadcast rights, pay-per-views, merchandising, so on. The 2009 sci-fi epic Avatar holds the all-time revenue record (nearly $3 billion). Clearly, successful Hollywood movies make a lot of money. But money is not what cash-flush Wanda appears to be chasing through Legendary.
For perspective, try this: At the end of 2015, the diversified conglomerate had assets worth 634 billion yuan ($97 billion), up 21 percent year-on-year. Last year's revenue of 290 billion yuan, up 19 percent year-on-year, exceeded the group's target. Bulk of it (190 billion yuan) came from commercial properties, in the form of real estate contract revenue, rent and hotel business.
Its 2015 film and cinema revenue was just 8 billion yuan, or 2.75 percent of the total, including 6.3 billion yuan from sale of 151 million tickets at its 292 cineplexes with 2,557 screens in China.
I think small change is not what Wanda's "legendary" - there, I've said it - boss Wang Jianlin, already the Chinese mainland's richest man, is hoping to spin from the Hollywood studio.
Wang implied as much while announcing the deal in Beijing on Tuesday. If money were the prime motive, he would have targeted more well-known names - the Warner Bros, Walt Disneys and the Universals.
Wanda described the deal as "China's largest cross-border cultural acquisition to date". Wang told the BBC that if US films wish to succeed in the high-growth Chinese market, the world's second-largest, they "should do something to cater to Chinese audiences' interests - if they don't, there might be trouble".
What better way to pre-empt "trouble" than taking control of a Hollywood studio? That way, you can do "something" about "cultural" aspects. Correct? Afraid, not. Then, all that talk is just corporate-speak? Probably.
So, let's look beyond cash and culture then, at Wanda the conglomerate. The world's biggest cinema company - tick. Film production - yes. Studio complexes - of course. Commercial real estate, department stores, hotels, theme parks, resorts, schools, hospitals, museums, yachts, sports clubs, sports marketing, people-based sports competitions... Tick, tick, tick....
Given the global reach and influence of Hollywood films, control of a reasonably successful but not iconic studio, it appears, would fit well with Wanda's apparent desire to expand its media business outside China, without shocking everyone and lifting American brows.
If you are nursing global media ambitions, if a studio deal is just the tip of the iceberg - more on this in a bit, bear with me for now - you wouldn't want to give the game away now by buying out iconic labels.
With Legendary and the 379-cinema, 5,261-screen AMC already in its pocket in the US, Wanda could milk Hollywood for all its worth to publicize its businesses without spending an extra buck on advertising.
A subliminal insertion here and a film shoot in its theme park there, a shot with its hotel in the backdrop here, a film role for one of its football players there... and, soon, the whole world will know who is Wanda and what China has. Why "something", Wanda stands to win everything.
Wang may or not have heard of Indian media tycoon Ramoji Rao who has already blazed a trail by making billions from a news business spanning print, broadcast and online media, film and studio businesses, hotels, commercial property, financing, food and what have you.
Okay, now for the "tip-of-the-iceberg" theory. Going by the financial muscle, frenetic expansion and ambition of Wanda, I would not be surprised if it plumps for the New York Stock Exchange to list the combined entity comprising Legendary and its own film production unit.
And then? I can visualize screaming headlines like, "Wanda snares New York Times", "Wanda swallows CNN", "Wanda pockets eBay". Watch out Alibaba Group's Jack Ma, here comes Wanda's Wang.