'Cars of future' driving into our lives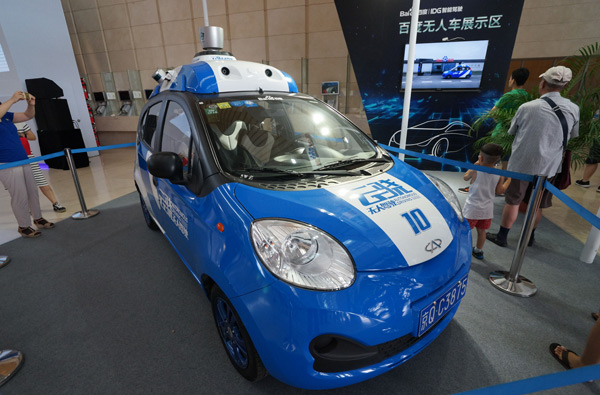 Baidu Inc's autonomous car at an exhibition in Tianjin. The internet company is pushing forward the research and development of autonomous driving technology. [Photo by Li Shengli/For China Daily]
Since the first modern car was invented in 1886, the automotive industry has never seen changes as great as it is experiencing now: cars are becoming smart, internet-connected and even autonomous.
And the changes are driving into our lives faster than many would imagine. From 2022 onward, for instance, all cars sold in China, the United States and Europe will be connected to the internet, said PwC's consultancy subsidiary Strategy& in its 2017 Digital Auto Report.
The report also predicts that, because of lower production costs and more charging facilities, electric cars will start to surge in number from 2025 and around 2027, highly or even fully autonomous cars will become part of most people's daily lives.
Some of the carmakers have come up with even more ambitious schedules.
"By 2019, all Volkswagen cars leaving the showrooms will be fully connected," said Stephan Woellenstein, CEO of Volkswagen Brand China.
Ford Motor Co is planning the same thing, also in 2019, and General Motors plans to achieve the goal by 2020.
Connectivity means those cars will allow owners to do more things and make lives much easier, according to Continental AG, a global automotive supplier and also a leading player in intelligent connectivity.
"Imagine one day, if your family member needs to use the car, but the key is in your hands, then you can send the access authorization to your family member's mobile phone over the air," said Juergen Heim, vice-president of Continental Division Interior China.
"If one day, a courier wants to deliver a parcel but you are not home, then you can send one-time access to the trunk of your vehicle to the courier's smartphone, which will be very convenient."
Connectivity's benefits do not stop there. For instance, GM is deploying technology in China that enables vehicles to communicate with one another and with infrastructure.
Based on a standard co-developed with Tsinghua University and China's Changan Automobile, GM demonstrated a vehicle-to-infrastructure application on public roads in Shanghai in November.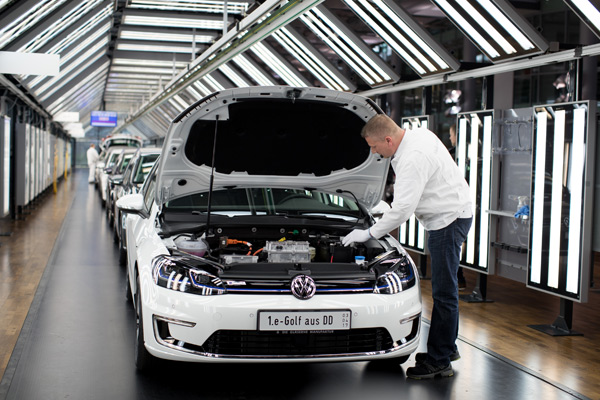 An employee inspects a Volkswagen e-Golf electric automobile in the light tunnel inside the Volkswagen AG factory in Dresden, Germany. China is one of Volkswagen's most important markets. [Photo/Agencies]
The application, which could provide drivers the advised speed for reaching the next intersection when the traffic light is green, helps improve traffic flow and reduce congestion.
"Connectivity is key to GM's vision of zero crashes and zero congestion because of its potential to improve safety and reduce congestion," said Matt Tsien, GM's executive vice-president and president of GM China.
In addition to internet access, cars themselves are getting smarter. Some models at Geely Auto can have dialogues with drivers and passengers. They can recite poems, and they understand and speak dialects.
"When Geely talks about intelligent connectivity, we are referring to automotive intelligence ... technologies which make cars smarter, safer, and more interactive," said Hu Zhengnan, head of Geely Automotive Research Institute.
He said the carmaker has launched a technology brand, called iNTEC, which was designed around a "humanized intelligent drive" concept with technologies developed to give occupants a greater level of safety and convenience.
"As intelligent technologies mature, this will ultimately lead to truly autonomous vehicles."
Hu said smart, connected vehicles are something relatively new, and no country is so far a clear leader in the sector. But China has listed intelligence and connectivity as key pillars in the development of its automotive industry, which is likely to give the country a head start.
The Chinese government set a goal in April to build a globally competitive automotive industry within 10 years, with smart and connected cars taking the lead worldwide.
China has also built an industry alliance of such cars, which so far has around 100 members, including both carmakers such as Geely and internet companies including Baidu Inc.
"Smart and connected cars are one of the most important parts in our automotive strategy. They are a strategic project that requires different players to work together," said Miao Wei, the minister of industry and information technology, when the alliance was established in June.
Heim at Continental believes China will lead the development in this aspect.
"First, there are many leading and influential internet companies in China, who are very actively working on the intelligent connected vehicles, and second, Chinese consumers are very open to new technologies."
Baidu has been pushing forward the research and development of autonomous driving technology. In April, it launched Apollo, an open platform on which its technologies can be shared with developers and automakers.
It plans to launch cars in 2019 in cooperation with JAC Motors and BAIC, and aims to mass produce autonomous minibuses that can operate in designated areas by the end of July 2018, in cooperation with bus maker Xiamen King Long United Automotive Industry Co.
Although it will take some time for fully autonomous cars to hit the road, many carmakers are already producing electrified cars.
Strong sales in China have put several carmakers, including BYD and BAIC Motor, among the world's top 10 bestselling brands in 2016.
The demand has continued. A total of 490,000 electric cars and plug-in hybrids were sold in China in the first 10 months of the year, a 45 percent rise year-on-year, according to the China Association of Automobile Manufacturers.
The prospects in China have attracted many to increase their electrified offerings.
Changan Automobile announced in October that it will stop selling conventional gasoline cars by 2025.
By then, it plans to invest 100 billion yuan ($15.1 billion) in new energy cars, including launching 21 electric car models and 12 plug-in hybrids.
Daimler AG's Mercedes-Benz will roll out its electric SUV called EQC in its joint venture plant in Beijing.
"We will make China the first country outside of Germany to build Mercedes-Benz electric vehicles and batteries with Chinese cells," said Hubertus Troska, a board member at Daimler AG, responsible for China operations.
"Electric mobility will be one of the biggest gamechangers in the decades to come. And China clearly intends to lead the way; it is already the world's largest new energy car market."
Globally, Daimler is investing 10 billion euros ($11.9 billion) to expand its electric fleet in coming years. By 2022, it will offer at least one electrified alternative in each Mercedes-Benz model range.
Volkswagen, the world's largest automotive group, released a strategy called Roadmap E at the Frankfurt Auto Show in September.
According to the plan, a quarter of Volkswagen cars will be new energy cars by 2025 and there will be at least one electrified version of each of the group's 300 or so models by 2030.
Electrified version will be available "at all brands, for all markets", said Volkswagen CEO Matthias Mueller. "Up until 2030, we will be making over 20 billion euros available for direct investment in the industrialization of e-mobility."
China is one of its most important markets. The carmaker has set out a plan to deliver 400,000 new energy vehicles to customers in 2020 and 1.5 million new energy vehicles - most of them pure battery cars - in 2025.
It has set up a joint venture with China's JAC Motors to produce electric cars for the Chinese market.
Ford and Nissan are following suit, each joining hands with local partners to do so.
Ford announced earlier this year that at least 70 percent of Ford-branded vehicles sold in China will offer electrified powertrain options by 2025.
Between 2016 and 2020, GM is introducing at least 10 new energy vehicles in China, including the recently launched Cadillac CT6 plugin, Buick Velite 5 extended-range electric vehicle and Baojun E100 electric vehicle.
By 2025, nearly all models from GM global brands in China - Buick, Cadillac and Chevrolet - will feature mild to strong electrification, said CEO Mary Barra.