BYD Auto's new energy sales targets reveal optimism for a bumper 2018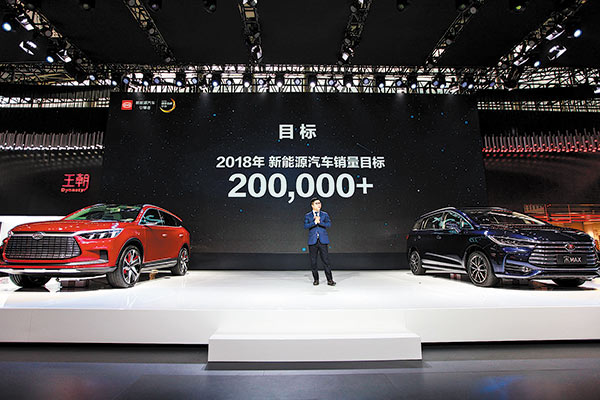 BYD aims to sell more than 200,000 new energy vehicles in 2018.[Photo provided to China Daily]
After maintaining its position as the No 1 new energy vehicle seller in China in the first 10 months of the year, BYD Auto is pinning its hopes on the refreshed Dynasty models for an ambitious 2018 goal-to sell 200,000 new energy vehicles.
BYD Auto Sales Co unveiled the annual sales target on Nov 17 at Auto Guangzhou.
It also proudly announced that its electric vehicles' sales volume in January to October reached 82,859 vehicles, exceeding its annual target for this year.
The Shenzhen, Guangzhou province-based carmaker highlighted its Dynasty concept car for the next-generation Dynasty Series, featuring a unique Dragon Face design language and boosted performance, along with the next-generation Song Max.
The latest seven-seater electric SUV is the first applied Dragon Face design, and will kick-start the refreshed Dynasty Series as the first member. The Song Max is forged for mainstream Chinese families by the world's renowned masters.
It will come with a flexible seven-seat arrangement and a cutting-edge intelligent system, designed with the passengers' satisfaction in mind.
The new model received more than 20,000 preorders within about 40 days of launching in the market.
The other members of the next-generation Dynasty Series will greet Chinese customers next year at the BYD Auto brand gala.
In the first 10 months of 2017, the company contributed 70 percent market share by volume to the mid to high-end market segment-defined by the 130,000 yuan to 300,000 yuan ($19,700 to $45,500) price range-according to its news release.
BYD Auto's overall market share hit 13 percent by the end of 2016, while its electric vehicle sales topped the world's new energy market once again. As a leader in the field, more than half of the company's new energy vehicles were sold in cities that do not restrict conventional vehicle plate registration, and its products have been delivered to more than 200 cities in 50 countries and regions.
BYD also leads the industry in terms of online reputation and innovation.
Smart connectivity, cloud service, and more technological features are widely installed in BYD-branded cars, and its peers are still talking about them.
Right now, BYD has established an automobile intelligence ecology institute, and has been cooperating with many top global partners.
These moves were driven by a vision for exceptional mobility experience and the desire to leapfrog from connected to intelligent vehicles.
Next year, the automaker will expand its network coverage to 400 cities worldwide, to promote a wider use of new energy vehicles globally.
Meanwhile, 30,000 charging facilities will be added to BYD's network, to ensure more convenient and integrated recharging services.