GAC begins building $6b industrial park for NEVs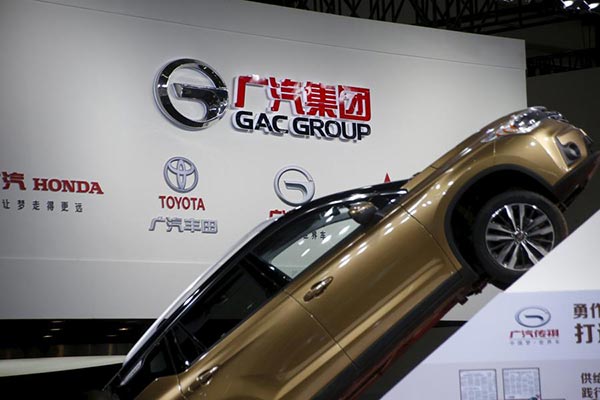 Guangzhou Automobile Group's logo is pictured at its booth during the Auto China 2016 auto show in Beijing, April 26, 2016.[Photo/Agencies]
Guangzhou Automobile Group, a major automobile manufacturer based in Guangdong province, said it had begun construction of a large industrial park for new energy and intelligent connectivity vehicles, aiming to boost its business amid the booming domestic demand for the environmentally friendly cars.
"Development of new energy vehicles, connected with intelligent technology, and unmanned vehicles, will be an industrial trend in the next five to 10 years. We will make great efforts to meet the market change," said Feng Xingya, general manager of GAC Group.
GAC Group, a Fortune 500-listed company, will develop the industrial park in Guangzhou's Panyu district, which consists of manufacturing, core auto parts and leading technological research of new energy cars, according to Feng.
"By building the intelligent industrial park, we are aiming to become the industrial leader in manufacturing of new energy vehicles," said Feng.
With a designed area of about 5 million square meters and an investment of more than 45 billion yuan ($6.52 billion), the industrial park will feature smart manufacturing, innovative technology research and development of an ecological town.
Construction of the first phase of the industrial park will be finished by the end of 2018, with a designed production capacity of 200,000 new energy vehicles a year, according to the company.
"We will join hands with industrial leaders in the new energy vehicle sector to facilitate development of the industrial park," said Feng.
By the end of 2025, construction of the industrial park will be completely finished, according to Feng.
The development of new energy cars is part of China's strategic industrial plans and the domestic demand for new energy vehicles has kept growing in recent years, with estimated sales of about 2 million units by 2020, according to the Ministry of Industry and Information Technology.
In March alone, production of sales of new energy vehicles reached 33,015 units and 31,120 units respectively, increasing 30.9 percent and 35.6 percent year-on-year, according to the China Association of Automobile Manufacturers.
According to Yu, GAC Motor, a subsidiary of the GAC Group, will launch four new varieties of new energy cars in 2017.
"After big sales of traditional vehicles in recent years, we are positioning ourselves to develop more new energy cars in the near future," said Yu.
GAC Motor, which was founded in 2008, focuses on research and development of homegrown vehicles. It sold more than 380,000 cars in 2016, a year-on-year increase of 96 percent, making it become one of the fastest-growing domestic brands.
Chen Shihua, assistant secretary general of China Association of Automobile Manufacturers, said domestic automobile manufacturer's shift to development of new energy vehicles will help create sustainable business growth.
"As the core technologies for new energy cars including batteries, electric motors and controlling improve, there will be a booming market demand for high-quality new energy vehicles," said Chen.