Mercedes-Benz sweeps car awards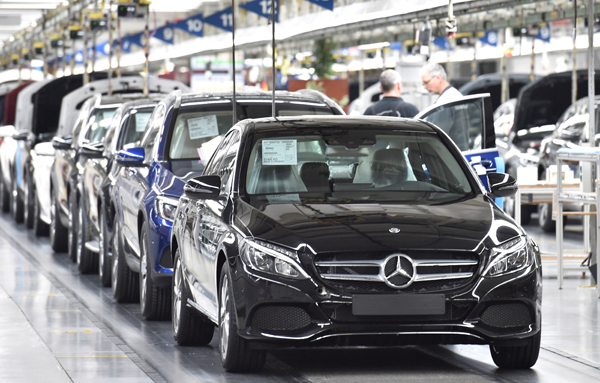 Mercedes-Benz cars are pictured in a production line at the plant of German carmaker Mercedes-Benz in Bremen, Germany, Jan 24, 2017. [Photo/Agencies]
German automaker Mercedes-Benz dominated the Best Cars award ceremony on Tuesday at Beijing, taking home a total of 10 awards.
Sponsored by Auto Motor und Sport China, the awards recognise a range of areas, including five brand awards, four model awards, and one special award for a company.
Three Mercedes-Benz models were singled out for recognition at this year's event, with the all new E-class taking both the 'Best Upper Mid-Sized Car' award and the 'Best Domestic Upper Mid-Sized Car' award.
Other models honored were Mercedes-Benz's flagship S-Class ('Best Luxury Car'), and the pioneering G-Class ('Best Large SUV & Off-roader').
The Porsche 911 was named Best Sports Car and Volkswagen China's CEO Jochem Heizmann won the award for best executive.
Mercedes-Benz executive vice-president Duan Jianjun put the company's success last year down to putting customers' interests first and providing more diversified and innovative customer experience platforms in a bid to address challenging market demands.
"As the inventor of the automobile, Mercedes-Benz throughout its 131-year history has always held the needs of our customers as the criteria to guide our innovation and development," Duan said.
The awards cap a good 12 months for Mercedes-Benz which produced its best sales results last year, delivering 480,944 new vehicles, up 28 percent from 2015, on the back of the launch of 16 new and upgraded models across all segments.
China is the German automaker's biggest market and it has plans to bring an additional 15 new models to market this year.
The Best Cars event was created by Germany's Auto Motor und Sport 40 years ago, and is recognized as a prestigious event in the industry.
In China, 'Best Cars 2017' is an impartial and authoritative voice that considers both industry and consumer opinion.