Electric bus pioneer pulls into wider European market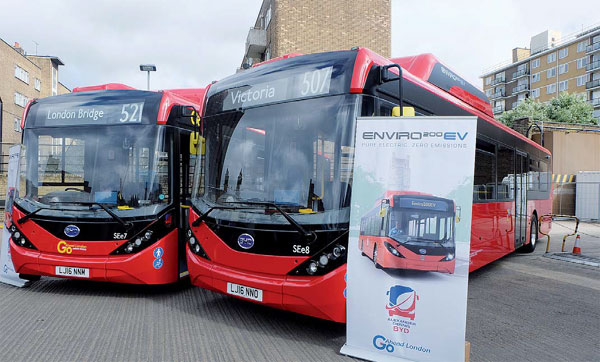 BYD's electric single-deck buses on display in London. Photos Provided to China Daily
As environmental regulations tighten, manufacturer is well placed to meet growing demand
Chinese vehicle manufacturer BYD is playing a major role in meeting Europe's demand for environmentally friendly transport.
The company is competing with Western producers such as Volkswagen, Renault-Nissan, and General Motors for a slice of the growing market for electric vehicles.
As the producer of Europe's largest fleet of all-electric buses, BYD recently announced it was setting up a new factory in Hungary to produce electric vehicles in preparation for even faster expansion.
The assembly plant in the northern Hungarian city of Komarom, to be built with 20 million euros ($21.3 million; 17 million) of investment, will employ up to 300 people over two shifts and will be capable of assembling up to 400 vehicles a year. With a research and development center and battery-testing facility, it will begin production in the first quarter of 2017.
"There is literally no limit to our ambitions in the UK and Europe," says Isbrand Ho, managing director of BYD Europe. "We plan to roll out more business-to-business products and then will come our passenger cars."
BYD started selling buses to the UK three years ago, initially as a trial run. After proving its technology, it rolled out 51 all-electric versions of the iconic London red bus in September, to operate between London Bridge and Waterloo. That is so far Europe's largest pure electric bus fleet, and it is estimated that it will reduce London's CO2 emissions by 700 metric tons a year.
In addition to the London buses, BYD has supplied fleets to Merseyside and Nottingham. It sold 50 taxis to British company Thriev two years ago and is now partnering with the popular taxi hailing app Uber for a trial of 30 electric taxis.
Although it's a newcomer to the UK, BYD has made a big name for itself in a market where its competitors have supplied only 22 electric buses to London.
The market potential is huge because the Greater London Authority aims to make all 300 of the city's single-deck buses that travel through central London zero-emission by 2020, and all its 3,100 double-deckers by 2019.
BYD's electric buses in the UK are made in partnership with Scottish company Alexander Dennis. BYD supplies the chassis, which holds the core technology and powertrain, and Alexander Dennis manufactures the body, which includes innovative features such as USB charging points and Wi-Fi.
To service the new buses, 43 charging points were supplied by BYD and installed at the Waterloo garage, with another five located at the nearby Mandela Way depot. BYD worked closely with Scotland's SSE energy group and UK Power Networks on providing power. About 7 million passengers a year use buses on the routes, covering more than 1.1 million kilometers to April 2016.
BYD has also supplied vehicles to other countries, including Sweden, the Netherlands, Denmark, Belgium and Spain. The company has already produced 10,000 buses, which are sold across 50 countries and operate in 240 cities.
BYD was founded in Shenzhen in 1995. It's European headquarters is in the Netherlands.
Originally a battery maker, it became the world's largest rechargeable battery manufacturing firm. Battery technology remains its core competitive advantage for electric vehicles.
"We understand batteries better than anyone else," Ho says.
This technology gave BYD a big head start when it started to make electric vehicles. Unlike competitors, who buy batteries from third parties, BYD can use its in-house iron phosphate battery, which is known to be safe, reliable and long-lasting.
"Every competitor has to acquire this technology from third parties and try and integrate the related components, while we produce all these in-house," Ho says.
With a team of 16,000 research and development engineers, BYD has ambitions to increase the power density of its batteries by 10 percent per year.
"This means more powerful batteries offering even longer range, or lighter, smaller batteries offering more carrying capacity for people and goods," he says.
Perhaps as testimony to its battery technology, BYD's buses in London have proved that they can run reliably and consistently for a 16-hour shift without charging.
BYD's strategic position as an electric vehicle maker has come at an opportune time, because over the next few years global emission standards will become increasingly strict. In BYD's home market the government has announced big plans to encourage electric vehicle growth.
By spring this year, BYD was producing more than 10,000 electric buses worldwide.
With the Chinese government's goal of having 5 million all-electric vehicles and plug-in hybrids on the roads by 2020, China's electric vehicle market has boomed. Sales of electric and hybrid vehicles reached 206,000 for the first eight months of 2016, a 160 percent increase from 2015, according to JATO Dynamics, a research firm.
Globally, 1.79 million electric and hybrid vehicles were sold the same year, JATO says.
With such huge opportunities, it is a competitive market. Chinese carmaker Zhejiang Geely is building electric taxis, known as TX4 Euro 5 London taxicabs, after its acquisition of the London Taxi Co three years ago. They will be launched in mid-2017 and, which shifting from diesel to electric power, will also be more spacious.
Chang'an Automobile and SAIC Motors are also selling electric and hybrid vehicles in response to Chinese policy initiatives to support the sector.
Felipe Munoz, global automotive analyst at JATO, says BYD's position as the leading Chinese electric vehicle manufacturer gives it on edge over Western competitors.
"China wants to lead global markets with electric vehicles. To be local to China is its major advantage because it will be part of the accelerated growth that will bring more technologies and expertise," Munoz says.
Munoz says BYD's presence in Europe means it can benefit from various European laws and government incentives.
To encourage the increased use of electric cars, European regulators have set a goal of turning 10 percent of parking spaces in new buildings in the eurozone into recharging points. Norway and the Netherlands, two countries leading electric vehicle growth in Europe, have plans to completely phase out diesel vehicles by 2025.
Munoz says BYD's main challenge in Europe is gaining recognition and combating the bad reputation Chinese cars have there.
"The European market is very competitive, with very little space for newcomers, as the local players are very well positioned in their markets," he says.
"All electric vehicles face problems trying to gain the trust of consumers, who worry about their range, recharging and efficiency issues. And this is even more of a problem if the brand is unknown to most of the public."
In this respect, perhaps BYD's strategy of establishing a name in the public transport sector before rolling out cars is smart.
Looking into the future, Ho is optimistic about growth in the use of electric vehicles in Europe, because cities are becoming increasingly densely populated, creating a big demand for public transport.
And the environmental credentials of electric vehicles are a big factor, as European cities move increasingly to reduce pollution, he says.