VW gears up car-sharing moves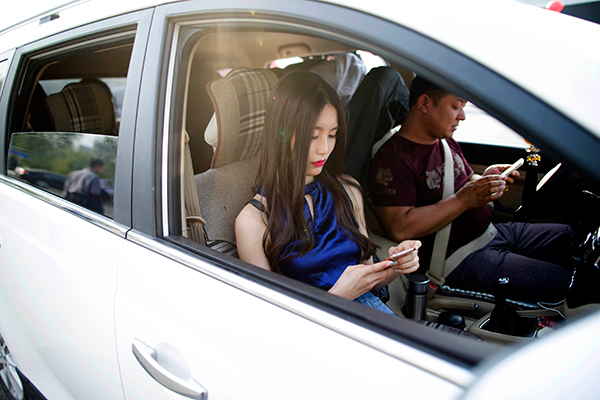 A university student in Taiyuan, capital of Shanxi province, takes a taxi she booked through the ride-hailing business of Didi Chuxing. [Photo provided to China Daily]
Germany's biggest automobile manufacturer Volkswagen Group said it is seeking to forge joint venture car-sharing deals with major local industry players like ride-hailing giant Didi Chuxing, to meet the rapidly-changing travel needs of Chinese consumers.
Volkswagen Group China signed a strategic cooperation framework with Didi Chuxing on Thursday, under which the two companies will establish a ride-hailing business and exchange business practices and strategies in products, marketing, branding and data technology.
They said their move would help promote the development of smart urban transportation system in China.
A joint venture will be set up by VW and Didi at an as yet unspecified date. Volkswagen Group China president and CEO Jochem Heizmann said the two companies would nail down their ownership stakes in the next few months.
Heizmann also stressed that Volkswagen sees its presence as a partner in the joint venture not as a car manufacturer as such, but as a "comprehensive mobile travel service provider," in line with the company's long-term strategy in China. He gave no further details about the new joint venture.
Didi Chuxing CEO and founder Cheng Wei said that the venture would meet the evolving and multiple travel demands of Chinese people. He said that with a new mainland travel ecosystem being established, the two companies would support the supply-side reform of the Chinese transport system, helping to address the current challenges lurking in transportation, environment and employment.
As the biggest ride-hailing company in China, Didi Chuxing now provides services to more than 300 million users in more than 400 Chinese cities. Its market-leader position was reinforced after its acquisition of Uber China in August.
In March, Didi Chuxing started a new-energy car timeshare rental business through a joint venture with new-energy carmaker BYD Motors.
Apart from Didi Chuxing, Volkswagen is also setting up a joint venture with Beijing-based Shouqi Group, as part of its broader moves to expand into the mainland car-sharing sector.
Global market consultancy Roland Berger said in a recent report on the car-sharing economy that the potential of China's car-sharing market is much larger than previously thought, with demand far exceeding supply. It estimated that China's car-sharing market would be worth 1.8 trillion yuan ($261 billion) by the end of 2018, equal to 2.7 percent of China's total GDP in 2015.
The consultancy said such a huge demand in the sharing economy - together with alternative propulsion systems, driverless and connected cars - should have signaled it was time for automotive manufacturers to reposition themselves. It said their focus should be changed from simply providing products to services, the latter holding the promise of more added value.
"Innovative shared transportation initiatives currently range from chauffeured rides to ride-sharing, driving services, shared rentals and timeshare vehicle ownership," said Zhang Junyi, a partner of Roland Berger.