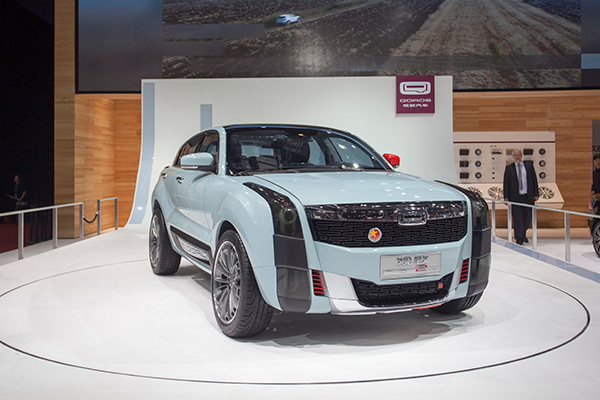 Qoros displays an SUV at the Shanghai auto show last April. [Photo provided to China Daily]
Qoros' sales chief quit on March 23, adding to the uncertainty of the young Chinese automaker's future.
The resignation of Sun Xiaodong, who took the helm of the fledgling company's sales department in February 2015, came after CEO Phil Murtaugh's quitting the joint venture between China's Chery Automobile and Israel Corp in January.
The company said Sun resigned from his position as executive vice-president of Qoros for marketing and sales for personal reasons, but Chinese reports said that he was taken away by the procuratorate for investigations into possible problems during his tenure at Shanghai General Motors, a joint venture between SAIC and GM, between 1997 and 2009.
"Our sales and marketing work is not affected and in good conditions," said Yang Yan, a public relations manager at Qoros.
Sun's aide Zhu Naijun is now in charge of the company's sales until a new sales chief is appointed. Zhu was vice-general manager at Chery Automobile's sales company and joined Qoros as vice-president of operations earlier this month.
Qoros President Chen Anning said the management reshuffle will not have much effect on the company's performance as it has quality products and a sound organizational structure.
"Activities and events are well underway. …There should be no reason to doubt interruptions to our ongoing execution of our plan and to our momentum," said Chen in a meeting with Qoros employees following Sun's resignation.
Some analysts say Sun's resignation will deal a blow to Qoros, whose sales performance has recently improved, while others argue Zhu may stabilize the situation thanks to his experience and the growing lineup of Qoros' models.
The automaker's SUV Qoros 5 just hit the market in some cities, and is widely expected to be a major driving force of its sales this year as SUVs have seen the most rapid growth in the Chinese auto market.
The brand also released a strategy early this year to add new-energy vehicles into its portfolio, as these are quickly gaining popularity in China.
Since its establishment in 2007, Qoros has been known for its vigorous quality supervision but was criticized for its high prices and lack of clear brand image.
Sun helped reposition the brand in 2015 and Chen acknowledged his efforts in boosting car sales, saying "Sun made positive contributions during his short time with Qoros".
Qoros sold 14,000 cars in 2015, a 170 percent surge year-on-year, and expects to see its sales at least double this year.