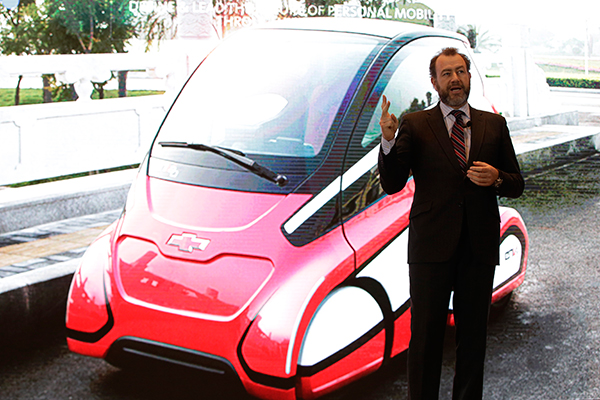 President of General Motors Dan Ammann speaks during a news conference about shaping the future of transportation in Beijing on Monday. [Photo/Agencies]
General Motors is eying SUVs and MPVs to fuel its growth in China as it expects car sales in the country to remain low for years, the automaker said on Monday.
GM and its partners plan to unveil 60 new and refreshed models by 2020, including 13 this year, and 40 percent of them will fall into the SUV and MPV segments, said GM China President Matt Tsien in Beijing.
The company expects the growth in China's overall car sales to average from 3 to 5 percent in the next five years, basically the same level as the 4.7 percent year-on-year growth in 2015.
Tsien said that translates into an increase of 5 million units or more in the market while 4.2 million units of those will be SUVs and MPVs.
"GM is very well-positioned to participate in this growth," said Tsien. "We will continue to focus on the segments where the demand is strong and growing. This has been a key to our success from day one," said Tsien.
China is GM's largest market, where it sold 3.6 million vehicles in 2015, accounting for more than one-third of its global deliveries.
Many analysts said SUVs will remain a powerhouse of China's auto market for some time but they urge automakers not to put all eggs in one basket.
In February, 478,000 SUVs were sold, a 44-percent surge year-on-year and a continuation of the sales momentum seen last year, according to the China Association of Automobile Manufacturers.
Tsien said GM will also unveil more than 10 new energy vehicles under the Chevrolet, Buick, Cadillac and Baojun brands by 2020, including the Shanghai-built Cadillac CT6 plug-in, which will go on sale later this year.
Besides its traditional business of making and selling cars, GM is implementing a plan to offer personal mobility solutions using tools such as ride sharing, car sharing and autonomous driving.
By the end of 2016, GM will have 12 million OnStar-connected vehicles on the road. In China, all Cadillac, Buick and Chevrolet models will be connected by 2020.
Earlier this month, Shanghai OnStar inked a deal with China's home appliances producer Midea Group to integrate onboard telematics and smart household technology into vehicles.
The automaker recently announced a strategic alliance with Lyft Inc to create an integrated network of on-demand autonomous vehicles in the US.
GM will invest $500 million to help the company continue growing its ride-sharing service.
In January, GM started its own personal mobility brand called Maven, which combines and expands the company's multiple car-sharing programs, including the EN-V 2.0 pilot program with Shanghai Jiao Tong University.