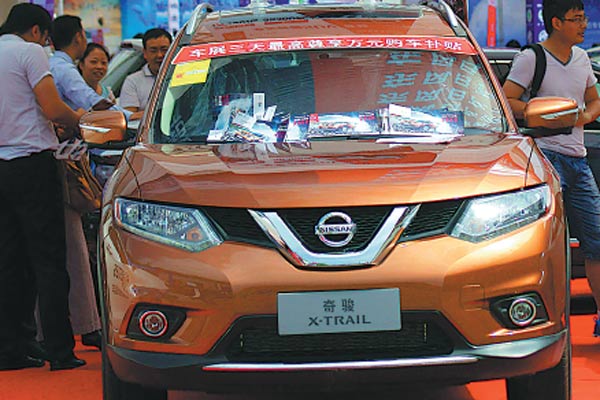 The SUV is growing in popularity among car buyers across China.[Photo/China Daily]
Industry predicts demand will mirror income growth, as Hao Yan and Du Xiaoying report
A faster pace of 6 percent year-on-year growth in the Chinese automobile market is predicted this year, in an expectation that the authorities will help unleash customer demand.
Vehicle sales in the world's largest car market surged to a record 24.6 million units last year, but remained at a low growth rate of 4.7 percent, a three-year low, according to a report released on Jan 12 by China Association of Automobile Manufacturers.
The association forecasted the automobile market would expand to 26 million units in 2016, and pinned that hope on supply-side structural reform. The industry will have ample room for development, as customer demand and usage is artificially restrained in many first- and second-tier cities, according to the report.
The central government started to stress "supply-side reform" in December, as a turning point in macro-policy. The move comes as China steers toward a growth model based on domestic demand, innovation and the private sector instead of trade and credit expansion.
The country vowed to "add new supply, create new consumption and form new growth momentum" through new ideas in institutions, technology and products.
Fu Yuwu, president of the Society of Automotive Engineers of China, said: "The Chinese automobile industry has completed its growth from small to big. Now it is stepping up to a stage developing from big to strong, the format is changing immensely."
Dong Yang, executive vice-president of the association, said the reform will push carmakers to reduce their costs in manufacturing and elevate their competitiveness.
Dong said the Chinese people's living standards have improved as their incomes grew, and vehicle buyers are likely to focus on such factors as space and power.
"These demands are mostly met by the supply of sport utility vehicles, and the segment has become the highlight of the past two years," Dong said.
Low-emission vehicles
The tax reduction policy for small-engine vehicles will accelerate the sale of cleaner emission cars in China this year, the China Association of Automobile Manufacturers said on Tuesday.
China sold 14.5 million passenger vehicles with engines of 1.6 liters or below in 2015, up 10.38 percent year-on-year. That was higher than the growth rate of the overall passenger car sector and accounted for 68.6 percent of the sector's sales.
The association said the policy contributed greatly to the growth of China's auto sales in 2015. However, the effect of the policy may negatively affect next year's auto sales if there is no new rise in market demand.