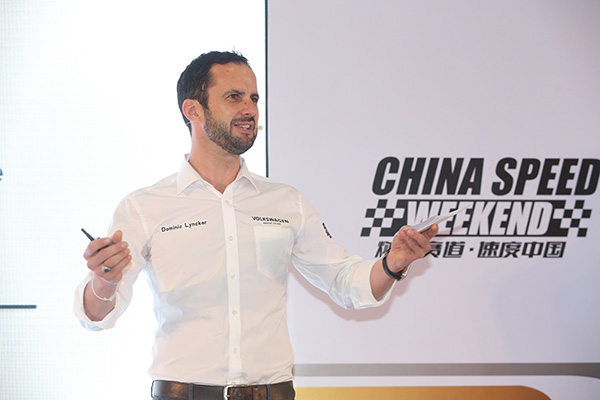 Dominic Lyncker, head of Group Sports Cars, Motorsport and Car Culture, Volkswagen Group China, gives a speech during a media briefing at the China Speed Weekend in Shanghai on Oct 17, 2015. [Photo provided chinadaily.com.cn]
After two days of thrills, speed and family fun in Shanghai, the first inaugural China Speed Weekend came to a thumping close on Oct 18.
China's motorsport carnival featured two full days of on-track events, off-track interactive promotional booths, and family-friendly racing zones. Large crowds were on-hand at the Shanghai Audi International Circuit.
China Speed Weekend was created by Volkswagen Group China as a key component of the Group's wider commitment to nurturing and developing car culture in China.
Dominic Lyncker, Head of Group Sports Cars, Motorsport and Car Culture, Volkswagen Group China said,"the event is to spread the enthusiasm in motorsport and the automobile culture as a lifestyle to Chinese people. It gets people close to the Volkswagen brand."
The carnival of car culture showcased the unique size and scope of the Volkswagen Group China motorsport and sports car portfolio, with engaging experiences for participants. Car enthusiasts were wowed by the non-stop stream of entertainment throughout the day, with Volkswagen Group China sports cars.
Volkswagen, Audi, Bentley, Lamborghini, and Porsche all hosted booths at the event. But cars weren't the only product on display. Ducati also held a motorcycle riding experience in the afternoon. The strong presence of Volkswagen Group brands added to the overall feeling of interconnectivity.
The first day began with qualifying sessions from the Formula Masters China Series, the region's leading international junior single-seated series followed by the Lamborghini Blancpain Super Trofeo. The day also featured a Boss GT race and the Star Racing Academy Rotax Karting Challenge finals.
On Sunday, the second Lamborghini Blancpain Super Trofeo race took place.