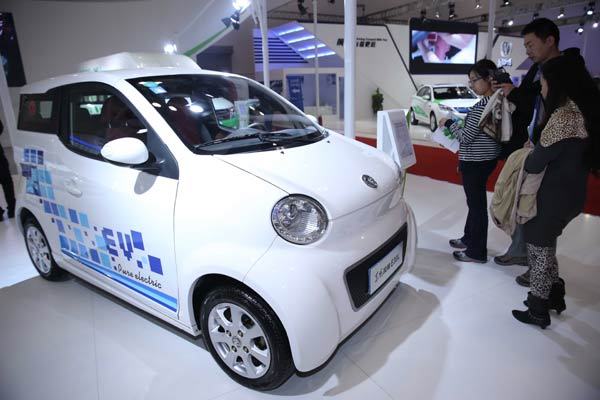 Visitors look at a Dongfeng electric car. Industry insiders warn against Chinese new energy carmakers falling into the "same trap" of allowing foreign automakers to dominate the Chinese market. CHEN MING/FOR CHINA DAILY
Fresh outlook, policies and subsidies key to hit goals and harness opportunities
The Chinese government is considering new preferential policies for the emerging new energy car industry.
The Ministry of Science and Technology issued a draft of the government's plan to support research and development of new energy vehicles to gain public opinion on Feb 16.
Beijing authorities also announced that the city would be friendlier to new energy car owners, by allowing them to pay less in parking fees and highway tolls by the end of March.
In 2012, the State Council set a goal of getting 5 million new energy vehicles on the road by 2020.
To meet this target the government plans to establish a research and development system and industrial chains for electric cars by 2020.
According to the China Association of Automobile Manufacturers, the output and sales of new energy vehicles in China were 78,499 and 74,763 in 2014, 3.5 and 3.2 times the figure in 2013.
Despite the growth, there is still a way to go to reach the central government's goal to have 500,000 new energy cars on the road by the end of this year.
Compared with sales of more than 23 million cars in China last year, the sales of new energy vehicles only accounted for a small proportion.
Dong Yang, secretary-general of the automobile manufacturers association, said he did not think the government would hit its new energy car goals unless it offered new preferential policies, as projected sales this year are about 150,000 to 200,000.
Ambition
The draft plan said electrification of power, lightweight structure and vehicle intelligence were the core technologies for the future development of new energy cars.
The next five to 10 years will be a period of strategic importance for the reorganization, transformation and upgrading of the global automobile industry.
According to the Ministry of Science and Technology, the Chinese automobile industry faces three challenges: the transition from a global sales leader to a leading manufacturing power, pollution control of car exhausts and energy security and national development at a low carbon level.