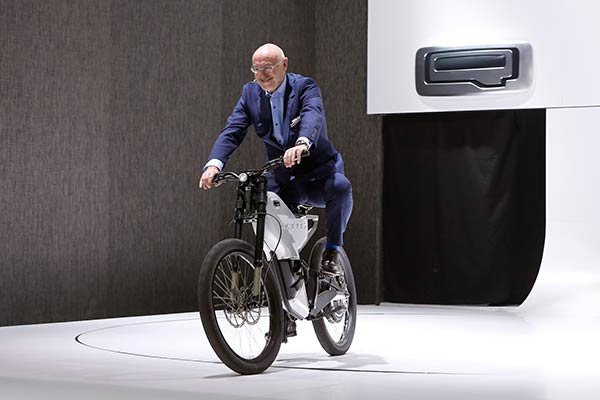 Executive Director of Design, Gert Hildebrand rides the eBIQE Concept on to stage. [Photo provided to chinadaily.com.cn]
The Qoros 3 Hatch is based on the same innovative modular platform as the Qoros 3 Sedan, which became the first car developed in China to be awarded five stars by Euro NCAP. It was later announced by Euro NCAP as 'the best performer of any car subjected to Euro NCAP's crash tests in 2013' making it one of the safest tested in the organisation's 16-year history.
The Hatch also shares with the Sedan its highly-efficient 1.6-litre naturally-aspirated and turbocharged engines and six-speed manual and DCT transmissions.
The Qoros 3 Hatch will be manufactured in the brand's all-new, highly-efficient and environmentally-sustainable assembly plant in Changshu, China, on the same production line as the Qoros 3 Sedan and will go on sale in China in the middle of 2014.
Qoros eBIQE Concept
Designed for modern metropolitan always-connected commuters and leisure riders, showcasing Qoros design and connectivity
The eBIQE Concept is suitable for commuting and for leisure rides, and just like the brand's road cars it has a unique combination of attributes to enhance the lives of modern, metropolitan customers.
Its design successfully incorporates Qoros'design DNA with clean horizontal lines, a forward-leaning wedge profile and a hockey stick-shaped spoiler–all typical Qoros design traits.
The eBIQE Concept also features an adapted version of the innovative QorosQloud connected services platform, adapted for application to the electric bike. It is operated through an advanced five-inch version of the brand's Qoros MMH™ (Multi Media Hub) touchscreen or via a dedicated website (www.qorosqloud.com) or smartphone app.