Greener path to health and harmony
By Chen Bo (China Daily)
2012-11-22 08:07
| | |
| --- | --- |
| | |
The 18th National Congress of the Communist Party of China has emphasized that China must establish an ecological civilization by incorporating it into the country's economic, political, cultural, and social advancement. This will further enrich the Scientific Outlook on Development and meet the intrinsic requirements for the development of socialism with Chinese characteristics, signifying that China's modernization transition has officially entered a new phase in its bid to build an all-round well-off society.
This innovative vision has been formed against a profound historical background. During its three-decades of reform and opening-up, China has focused on economic development that has largely improved the material standard of living of the Chinese people, and realized the modernization objective of building an overall well-off society, however, environmental protection and the conservation of resources have been neglected.
The industrialization process in developed economies shows that when socioeconomic development reaches a certain level, the public's awareness of environmental protection significantly increases.
For example, a large-scale survey conducted by the European Community in the 1970s found that people in the member countries showed high concern for environmental issues, and even attributed inflation, poverty and unemployment to environmental pollution, which prompted the EC to make environmental protection one of its top priorities in its socioeconomic development.
Now, after solving the material problems of life, more Chinese people have begun to pay more attention to their surrounding environment, which has resulted in protests against proposed industrial plants that are perceived to be a risk to the environment. This means that the country faces a new development bottleneck: The conflict between people's increasingly high requirements for environmental well-being and the extensive industrialization model.
Constructing an ecological civilization means not only simply protecting the environment, it is also aimed at the overall objective of sustainable development, with the emphasis on human-oriented development that achieves harmony between people and nature. It promotes adjustments to avoid destructive growth according to local conditions, and puts ecology into the socioeconomic system by taking into account the impact of human activities on ecological systems. An ecological civilization necessitates a circular, ecological, low-carbon economy, one in which all-waste is recycled and reused, with advanced management concepts and clean technology.
During the past decade, the Chinese government has already made progress in establishing a circular, ecological, low-carbon economy based on energy conservation and emission reductions. This has laid a solid foundation for building an ecological civilization.
While an ecological civilization seems to solve the conflict between environmental protection and economic development, it is fundamentally about people's livelihoods. The Five-in-One socioeconomic development model is an interpretation of the Scientific Outlook on Development, which presents the complex and arduous task China faces in the coming decade.
We first need to free our minds so that we have a correct understanding of the relationship between economic development and resource conservation and environmental protection. The environmental degradation and consumption of resources resulting from the rapid development of China's market economy are one of the most serious problems arising from China's reform and opening-up. But to put all the blame on market forces and the development model not only fails to help solve these problems, but also runs counter to the fundamental principles of socialist modernization. The experiences of Western countries prove that a reasonable correction mechanism and welfare system are effective problem-solving tools for market economy externalities such as environmental pollution.
At present, China's environmental legislation lags far behind that of Western countries, and environmental factors are yet to be considered a core factor in decision-making. Therefore, capacity building should be strengthened among decision-makers, companies and governments at all levels to deepen understanding and alter perceptions so that environmental protection is not seen as a constraint on profits.
We also need to systematically design a measurement system for ecological civilization building to the GDP-oriented measurement of progress, which has contributed to the increasingly severe environmental problems in China. Environmental indicators have long been viewed as restrictive and constantly weakened under the pressure of GDP growth. However, constructing an ecological civilization requires a more comprehensive assessment system that focuses on environmental and resource issues, a circular economy, ecological economy and energy conservation and emissions reduction. Therefore, an assessment system that integrates the current green indicators with concepts like ecological footprints and environmental cost should be developed as soon as possible to replace the GDP-centered assessment system.
The frequent environmental protests are rooted in people's concerns about their health in the final analysis, so policymakers need to be aware of the relationship between public health and the health of the environment. The green economy has become a new source of global growth and many countries and regions are implementing strict environmental regulations at the cost of short-term benefits, with the aim of promoting the development of green industry, create new jobs and enhancing their competitiveness. China must upgrade its own environmental policies to tackle complicated green trade barriers and industry competition if it is to compete in the global market.
Making the construction of an ecological civilization as the core element in building a well-off society in an all-round way means China's reform and opening-up has further shifted toward sustainable development.
The author is a researcher at the Institute of Low-Carbon Economy and Climate Change, Renmin University of China, and author of Low-carbon Reform: What Shall We Do in the Next 30 Years?
(China Daily 11/22/2012 page9)

The HOPE OF BREEZE is a light driven by the wind energy, with the shape of a traditional Japanese windbell.

XDModo Solar Sunflower collects sun's energy through the solar panel to charge mobile phones.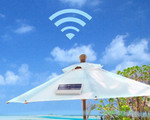 CoverFi is a portable wireless router that resolves issues like low battery levels and charging inconveniences.

The 2012 Smart City Expo World Congress opens on Nov 13 in Barcelona, Spain. It will end on Nov 15.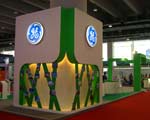 The China International Green Innovative Products & Technologies Show 2012 opend in Guangzhou.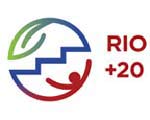 Chinese private firms will join the China Going Green Dialogues, part of the Rio+20 in Brazil.