China mulls green tax
By Hao Yan (chinadaily.com.cn)
2010-11-24 13
The Chinese government is considering an environmental tax, and also discussing a tax on carbon emissions, Cri.com reported Wednesday, citing an official.
Xie Zhenhua, deputy head of the National Development and Reform Commission, said at a news conference on Nov 23 that government agencies are actively working on an environmental protection tax, and might introduce the tax in future.
During the 12th Five-Year Plan (2011-2016), the government will largely use market and economic measures to accelerate efforts to reduce carbon emissions, Xie said.
Some cities, including Beijing, Shanghai and Tianjin, are participating in a carbon credit exchange trial, Xie added.
A US electronics company invented a charger that draws its power from Wifi signals, according to TGDaily.com.
The "Green Seeds" chewing gum bottle designed by Jiang Gonglue makes it easier for you to deal with gum residue.
A French graduate designed a kettle using an incandescent bulb to heat water, according to dezeen.com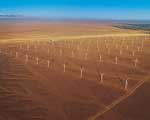 China Wind Power 2010 is the largest and most important international wind power conference and exhibition in China.
TradeWinds Shipping China 2010 moves to examine every important facet of the shipping industry's fortunes.
Outdoor Lifestyle Hangzhou Fair will attract reputed suppliers, buyers and agents from around the globe.