Experts mull green challenge
By Li Xing (China Daily)
2010-11-13 11
| | |
| --- | --- |
| | |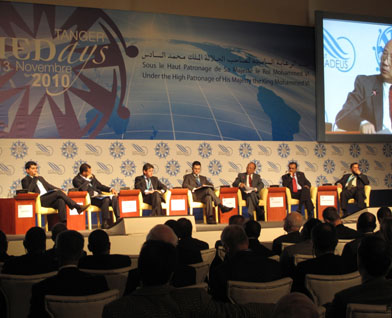 Participants on Thursday listen to Cheng Tao from China elaborate on China's actions in green development during the 2010 MEDays, a three-day forum for co-development, held in Tangier of Morocco. [Photo/China Daily] 
Forum hears calls for joint global action on environment
TANGIER, Morocco - Concrete action along with setting realistic goals and the rethinking of shared but differentiated responsibilities are ways to push forward progress in the coming climate change negotiations in Cancun, Mexico, experts said.
"The energy revolution is a key issue for the world's security as well as for employment," Rajendra Kumar Pachauri, chair of the Intergovernmental Panel on Climate Change, said on Thursday at the plenary session on climate challenges, energy revolution and sustainable development at 2010 MEDays in Morocco's northern coastal city.
Climate change is one of the focal issues of the three-day forum, which opened on Thursday, organized by Moroccan think tank Institute Amadeus.
The event, which was launched in 2008, has become a platform for government officials, scholars, journalists and development experts from around the world to engage in brainstorming sessions on development.
There are still 1.6 billion people with little access to energy in the world, Pachauri said, but the sheer number also provides opportunities for entrepreneurs to apply solar and other renewable energies.
However, multinationals dictated to developed countries when they were devising their policies, he said.
As a result, the proposed renewable technologies from developed countries are very costly for developing countries to adopt.
"I certainly commend China for what it has done in its actions to improve energy efficiency and fight greenhouse gas effects," Pachauri said in response to a question asking him to comment on China, one of the biggest greenhouse gas emitters in the world.
He also noted China's promise to cut the intensity of its greenhouse gas emissions during the Copenhagen Climate Summit.
In the past five years, China has dismantled polluting and energy-guzzling power plants whose capacity of 70 million kW equaled the total power generation capacity of the United Kingdom, Cheng Tao, vice-president of the Chinese People's Institute of Foreign Affairs and former China's ambassador to Morocco, said in his speech, citing a series of figures to highlight China's effort to promote green development.
China recognizes that mitigating climate change is a matter of survival for humanity, Cheng said, but China does not make empty promises.
It is imperative for the world to take concrete and concerted action and promote international cooperation, Cheng said, especially urging developed countries to contribute to such cooperation.
"Every man for himself and God will punish us all," Cheng said, adapting the French proverb "Every man for himself and God is for us all".
Etienne Massard, presidential advisor and director-general of the Environment and Climate Focal Point of the Ministry of Environment of Gabon, pointed out that Africa has been sidelined in the world's development drive.
Africa is always relegated to "survival with no disturbance" and African countries, especially Gabon and other central African countries, are also required to preserve their tropical forest to prevent climate change from intensifying, he said.
Now that the world is undergoing an energy revolution, "Africa must not remain on the sidelines of this change", Massard said.
"African countries must not stand still; they must prepare for green technology like China and India," he said. "We want to be living in dignity not survival."
"We must do it for ourselves, so our children can not blame us for doing nothing," Massard said.
Cancun talks
As to the coming Cancun climate talks, Cheng from China said the world requires a strong political will with the setting of realistic goals through compromises to end the stalemate in climate negotiations.
One way is to re-evaluate common but differentiated responsibilities and calculate per capita greenhouse gas emissions, Bruno Rebelle, general-director of France-based Synergence and former director for development of Greenpeace International, said during the side panel From Copenhagen to Cancun: How to bring together various national initiatives to avoid a second missed opportunity.
Measuring greenhouse gas emissions by individual countries will not contribute to a strong enough framework for global action, Rebelle told China Daily on the sideline of the forum.
China and the United States are both big emitters, he said, but if we look at per capita emissions, "there is a huge difference between China and the US".
The eco footprint of the average Chinese is only one fourth of that of the Americans.
"I am not saying doesn't have responsibilities, but Why should we place all the burden on the Chinese," he said.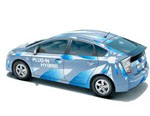 Hong Kong Environment Bureau said it will conduct a three-month trial starting in January 2011 on a new model of hybrid vehicle.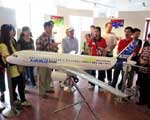 An Airbus A320 model containing a fuel cell demonstrator displayed at the Shanghai Expo had attracted lots of visitors.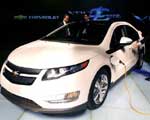 General Motor revealed its electric car, the Chevrolet Volt, in Shanghai on Aug 31. It will serve the World Expo as VIP transportation.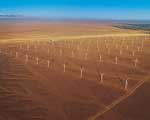 China Wind Power 2010 is the largest and most important international wind power conference and exhibition in China.
TradeWinds Shipping China 2010 moves to examine every important facet of the shipping industry's fortunes.
Outdoor Lifestyle Hangzhou Fair will attract reputed suppliers, buyers and agents from around the globe.