Nuclear firms to generate investor interest in listing
By Wan Zhihong (China Daily)
2010-11-10 11
| | |
| --- | --- |
| | |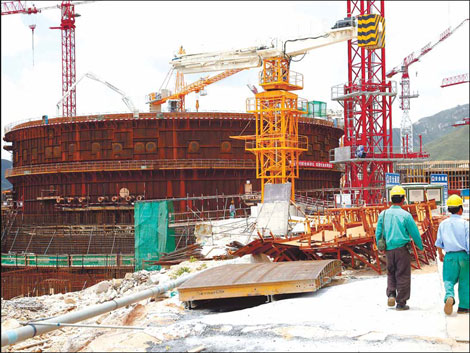 Construction takes place on a China Guangdong Nuclear Power Group nuclear plant in Taishan, Guangdong province. China's three major nuclear power companies are looking for investors as the country plans to promote the construction of nuclear plants. [Photo / Bloomberg]


Top three to discuss plans for floatation with power industry authorities
BEIJING - China's three major nuclear power companies have all embarked on their listing plans as the country sees accelerated growth in the development of the clean energy, said industry sources.
The three major companies are China National Nuclear Corp (CNNC), China Guangdong Nuclear Power Group (CGNPG), and State Nuclear Power Technology Corp (SNPTC), China Business News reported Tuesday, citing unnamed sources.
The three companies have all discussed their listing plans with the authorities, said the report.
As the country's largest nuclear power plant operator, CNNC is making preparations to list its subsidiary, CNNC Nuclear Power Co Ltd, Chen Hua, assistant president of CNNC, told reporters in September.
The company plans to attract strategic investors by the end of this year, and expects to complete all the preparation work in the first half of next year, said Chen, who is also the president of CNNC Nuclear Power Co Ltd.
CNNC's rival CGNPG has decided to make a back-door listing, the report said, without giving details of any likely target.
The company is also planning to attract new strategic investors as part of its plan to launch an initial public offering (IPO), a source told China Daily earlier.
SNPTC, which is mainly involved in the development of third-generation nuclear power technology in China, plans to list its shares in the second quarter of 2012, Chairman Wang Binghua told Xinhua News Agency in May.
Related readings:


 China, France likely to sign nuclear, aviation deals


 China's top nuclear agency CIAE turns 60 now


 China's first inland nuclear plant to be completed in 2015


 Nuclear strides vital for goals

The company will increase its registered capital from 4 billion yuan ($597 million) to 10 billion yuan through a capital injection, and set up a financial services arm this year to enter the financial sector.
Final preparations for the listing will be undertaken during 2011 and the first half of 2012, Wang said.
According to analysts, the listing plans of the three companies are in line with the rapid development of China's nuclear power industry.
"China has the most dynamic nuclear power sector at present in the world.
It is natural for domestic companies to eye the financial market to meet their expansion plans," said Han Xiaoping, chief information officer of domestic energy portal China5e.com.
China has the world's most nuclear reactors under construction at present. Nuclear power is expected to account for 8 percent of the country's total power capacity by 2020, analysts said.
China now has 10.8 gigawatts of nuclear power capacity in operation, which accounts for around 1 percent of the total power capacity, according to the National Energy Administration.
That figure is expected to rise to 70 to 80 gW by 2020, industry insiders said. The development of nuclear power will form an integral part of China's energy plan for the five years from 2011 to 2015, they said.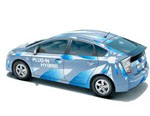 Hong Kong Environment Bureau said it will conduct a three-month trial starting in January 2011 on a new model of hybrid vehicle.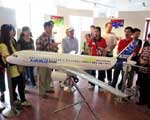 An Airbus A320 model containing a fuel cell demonstrator displayed at the Shanghai Expo had attracted lots of visitors.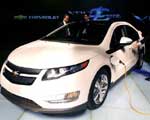 General Motor revealed its electric car, the Chevrolet Volt, in Shanghai on Aug 31. It will serve the World Expo as VIP transportation.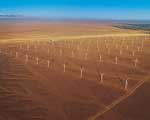 China Wind Power 2010 is the largest and most important international wind power conference and exhibition in China.
TradeWinds Shipping China 2010 moves to examine every important facet of the shipping industry's fortunes.
Outdoor Lifestyle Hangzhou Fair will attract reputed suppliers, buyers and agents from around the globe.