China becomes global leader in clean energy: study
(Xinhua)
2010-10-20 11
| | |
| --- | --- |
| | |
CANBERRA - China has become a leader in clean energy efforts, outstripping the United States and Japan, and leaving Australia lagging far behind, a study commissioned by the Australia's Climate Institute showed on Tuesday.
Global research unveiled countries including Britain, China and the US already have set up a higher direct and indirect carbon pricing.
The Vivid Economics report, commissioned by Australia's Climate Institute think-tank, showed China's incentives to encourage low- carbon generation, such as solar and wind power, are almost triple those in the US.
Measures to encourage renewable energy, as well as imposing taxes on dirtier forms of generation, like burning coal, has placed China above the US, Japan, Australia and South Korea in a six-country study, while only second to Britain.
According to the research, the highest price went to the Britain ($29.30), China ($14.20), US north-east ($9.50), US overall ($5.10), Japan ($3.10), Australia ($1.70) and South Korea ($0.7).
Related readings:


 Clean energy probe equals 'protectionism'


 Keep green energy clean


 US clean energy probe rejected


 China rejects US clean energy probe
"China is leading and taking responsibility," Erwin Jackson, director of the Climate Institute told Bloomberg Media on Tuesday, pointing of China's "surprising" dominance.
"If you look at it, they're doing it because it's in their economic interests. They are now commanding the largest market share of clean energy investment at a global level as a result."
The report indicated that the main driver of China's performance was its commitment to shutting down more than 100 small coal-fired power plants for cleaner coal stations by 2011, which would reduce emissions by 15 percent.
In order to generate 15 percent of the nation's total energy from renewable sources by 2020, the country has also offered subsidies worth billions of Chinese yuan for green energy projects.
China, the world's second largest energy consumer after the United State, last year pledged at the United Nations Climate Change Summit in New York of US to cut carbon dioxide emissions per unit of gross domestic product by 40 percent to 45 percent from 2005 through 2020.
The nation targets to increase the share of non-fossil fuels in primary energy consumption to around 15 percent by 2020, up from the current 7.8 percent.
It will be achieved by expanding its installed hydro-power capacity to 300 million kilowatts by 2015 from the current 200 million in an effort to cut carbon dioxide emissions. Development of other clean energy sources, including solar, bio-mass and nuclear energy, has also accelerated in China.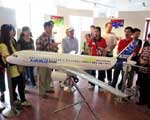 An Airbus A320 model containing a fuel cell demonstrator displayed at the Shanghai Expo had attracted tens of thousands of visitors.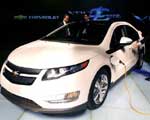 General Motor revealed its electric car, the Chevrolet Volt, in Shanghai on Aug 31. It will serve the World Expo as VIP transportation.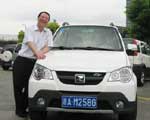 Last week little-known carmaker Zotye Auto became the first Chinese company to sell a purely electric car to an individual.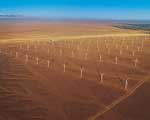 China Wind Power 2010 is the largest and most important international wind power conference and exhibition in China.
TradeWinds Shipping China 2010 moves to Beijing to examine every important facet of how the shipping industry's fortunes are linked to China.
Outdoor Lifestyle Hangzhou Fair will attract reputed suppliers, buyers and agents from around the globe and it will offer numerous opportunities.