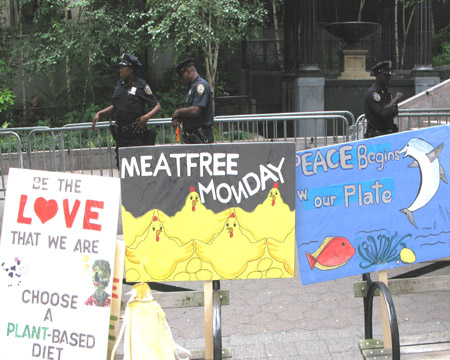 Police stand on guard some distance away from placards of a vegetarian group on Tuesday.[Huang Xiangyang/China daily]
The annual UN session has always been a gathering point for protestors hoping to get their voices heard, and this year's event is no exception.
The crowds arrived early this Tuesday (US eastern standard time) when the United Nations began its first summit on climate change, which drew more than 100 heads of state.
Related readings:


UNEP praises China's green efforts 


 Signs of rebound for Shanghai's greener economy


Tianjin to launch China's first carbon market 


 China urges developed countries to massively cut emissions
But among hundreds of angry protesters who want to topple governments, overthrow parties or seek independence, there are some small groups who seek to strike a more positive tune.
Dozens of meters away from the raucous demonstration area, Zhao Zhihong, a member of a vegetarian group, quietly sit beside placards calling for plant-based diets. "Be Veg Go Green" is the message she wants to spread. Her group believes that meat eating is a major cause of global warming, a problem bigwigs are trying to sort out at the UN summit.
"Mankind is degenerating fast down on the road of self-destruction because of meat consumption. I am here to be a wake-up call," she said, adding her group could not book a rally spot because it applied too late.
She sounded passionate when talking about animals. "We are all equal members of this planet. Why should people eat them, just because animals are weaker? Would people eat their own children?"
Her group's small presence did not draw much media attention, but Zhao said it did not matter. "We have done our part. My heart will be at ease when I die."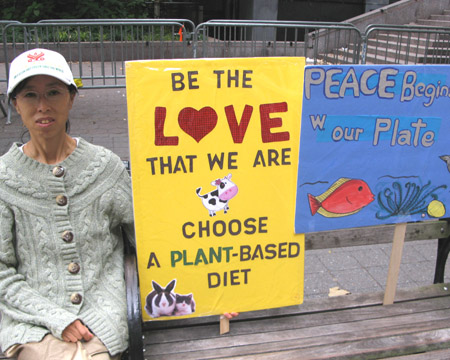 Zhao Zhihong, with a vegetarian group, says meat eating is a major cause of global warming on Tuesday.[Huang Xiangyang/China Daily]