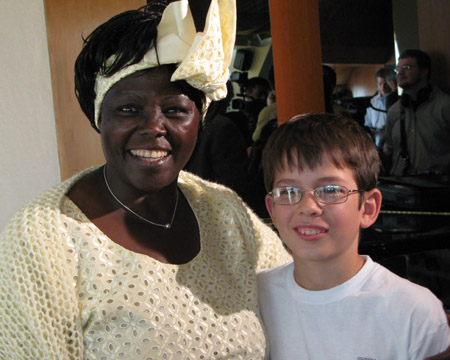 Nobel (Peace Prize) Laureate Wangari Maathai and 11-year-old Felix Finkbeiner attend an event to mark The Billion Tree Campaign on Monday, September 21, 2009. The UNEP-sponsored project announced it has already met the target of planting 7 billion trees by the end of this year, with China contributing 2.6 billion trees.

The German boy leads the Plant for the Planet initiative, which, on behalf of children around the global, calls on world leaders to "stop talking, start planting".[Huang Xiangyang/China Daily] 

 
A UN-sponsored project aimed at countering the threat of global warming with the help of tree planting has reached its goal earlier than expected.
Each Chinese involved in the project planted at least two trees in the past year for the UNEP-sponsored project, making it cross the 7-billion threshold more than two months ahead of schedule, said Jia Zhibang, director of the State Forestry Administration, at a ceremony on Sept 21 to mark the achievement.
The Billion Tree Campaign, launched by the United Nations Environment Program in November 2006, encourages individuals, communities, businesses and governments to plant trees to aid the environment and fight against global warming. Scientists believe that one hectare of trees each year can absorb six tons of carbon dioxide, a major cause of rising temperatures.
Related readings:


 Signs of rebound for Shanghai's greener economy


 UNEP praises China's green efforts


 Punish polluters to save environment


 Environment official pleads guilty to graft 
UNEP set the 7-billion tree goal—one for every person on the planet—after the 3-billion mark was crossed in March this year thanks to mass plantings by governments and citizens. Jia told China Daily the 2.6 billion trees China planted last year were for the UNEP project.
China ranks first on the list of major tree planting countries. "As other countries are trying to reach the one-tree-for-one-person annual target, each Chinese citizen planted more than two trees," Jia said, adding the effort is a major boost to the world fight against climate change.
The achievement is remarkable, especially in the backdrop that worldwide deforestation continues at an alarming rate, he said. About 13 million hectares of trees disappear each year—an area the size of Greece or Nicaragua–thanks to increasing human activities and a worsening eco-system.
"The Chinese government and people take seriously the responsibility of safeguarding global climate safety," Jia said.
The country has set the target of raising the forest coverage rate from 18 percent to 20 percent in the five years until 2010. By 2050, 26 percent of the country's land areas will be covered by trees.
"Planting trees is the best that China can do to contribute to the fight against climate change," Jia said.