Plot thickens for online literary companies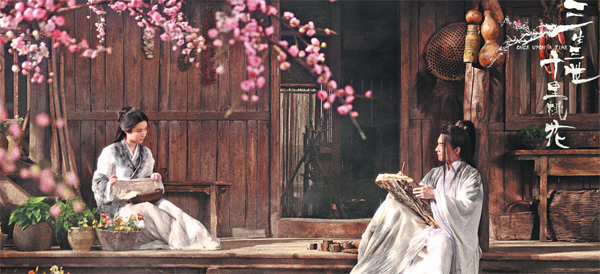 A poster of the movieTen Miles of Peach Blossoms, an adaption of an online story. [Photo provided to China Daily]
A vast array of online literary genres has revolutionized the entertainment industry in China and triggered a new wave of TV dramas, movies, animations and gaming titles.
Stories and plots from aspiring authors are now read by millions of internet readers across the country before being turned into films, television series or cartoons.
Smash-hit dramas such as Nothing Gold Can Stay and Ten Miles of Peach Blossoms were spectacular adaptations from popular online stories, highlighting this booming new business.
"Online literature will become the mainstream in the future," said Dong Qianqiu, general manager of the literary division at iQiyi.com, at an entertainment conference earlier this year.
A report released by the China Internet Network Information Center, or CNNIC, showed a growing number of people are reading e-books on mobile devices rather than PCs.
About 353 million Chinese users are hooked on online stories, with 327 million reading e-books on smartphones.
Figures from the CNNIC have backed up this internet boom. Among the 751 million netizens, 96.3 percent were mobile phone users, providing a massive base for the online book business.
As for age groups, millennials have become big fans of online literary works and the spinoff movies, TV series and games.
High-definition smartphones, and innovative mobile internet technology and software have made on-screen reading and video-watching cool again.
So cool, in fact, that consumers are willing to pay for it.