WIC brings Wuzhen winds of change
In the four years since the first World Internet Conference (WIC) was held in Wuzhen, East China's Zhejiang province, the ancient water town and tourism hot spot has undergone a raft of changes and upgrades to improve the lives of residents and the experiences of those visiting.
Back in 2014, the central government chose Wuzhen as the permanent host of the WIC because of Zhejiang's strong internet infrastructure, as well as its unique beauty and its vast transformation from being a once neglected village to one of the most visited ancient towns in China.
The first conference was a complete success and spurred great changes in public infrastructure. With the fourth WIC currently underway in Wuzhen, there is no way to escape the influence the WIC, the internet and the latest in high-tech has had.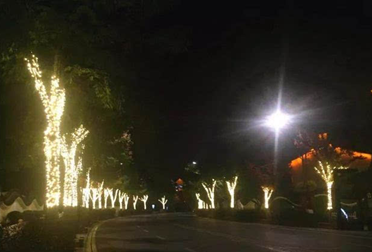 Street lights in Wuzhen, East China's Zhejiang province are controlled by a central application. [Photo by Xiang Wenjian/chinadaily.com.cn]
Smart street lights line the streets in the ancient town, all monitored and controlled by a single central application. This enables them to be switched on and off, or even have the luminescence adjusted at specific times to save energy and increase efficiency.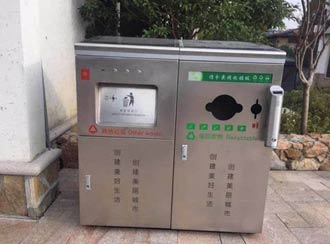 Smart rubbish bins in Wuzhen, East China's Zhejiang province can tell cleaners their conditions via automatic doors and sensors. [Photo by Xiang Wenjian/chinadaily.com.cn]
Ever been spoken to by a rubbish bin? In Wuzhen you will be - with automatic doors and sensors that alert cleaners when they are full. The rubbish bins thank you for taking care of the environment every time you use them. On top of that, they are solar-powered.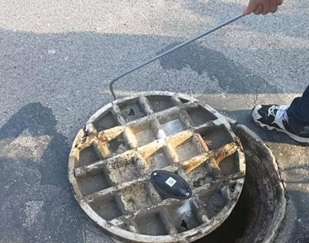 The sensor on this manhole cover in Wuzhen, East China's Zhejiang province, is able to report problems to authorities via a wireless network. [Photo by Xiang Wenjian/chinadaily.com.cn]
Even the manhole covers are intelligent. Each is fitted with a special sensor that will detect when it gets dislodged and alert the authorities via a wireless network to come out and fix the problem.
Parking problems are a thing of the past in Wuzhen. The ancient town now has more than 800 smart spaces, with their usage being displayed on signs in nearby areas. The signs display how many bays are available in certain areas.
The town's iconic scenic spot, along with everywhere else in Wuzhen, accepts electronic payments, such as Alipay and WeChat, and on top of that, facial recognition technology is now being used so that people need only to scan their faces to enter the national 5A scenic spot.
The Wuzhen Internet Hospital, China's first internet hospital, has impressed many people for its convenience since its launch in 2015.
The hospital connects well-known doctors with patients from all over the nation through its app and website. After a patient talks with doctors via video chat, an electronic patient record will be saved in the system. The patient can choose a doctor at home, receive a treatment after remote consultation and pay bills online.
All of these things and many more have revolutionized the way people interact with the public infrastructure in Wuzhen - pushing it to become the most technologically advanced ancient town in China and a trendsetter for the nation.