Supervision steps up on online finance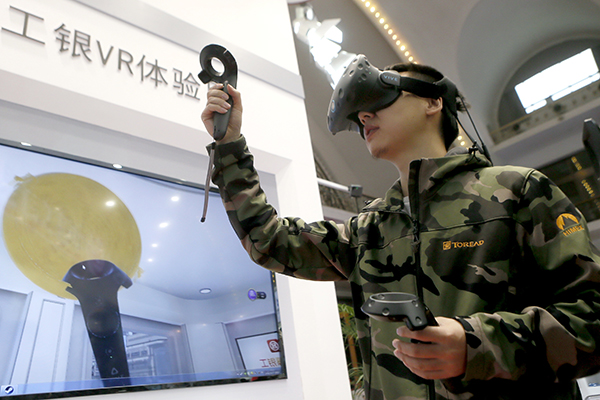 A man tries VR tech of the Industrial and Commercial Bank of China at an industry expo in Beijing last month. [Photo/China Daily]
Funding can help currently underserved people, but risks need to be watched closely
To ensure sustainable development of the fast growing internet financial services industry, China will build a system to supervise products and regulate market entry, a top central bank official said on Friday.
Pan Gongsheng, deputy governor of the People's Bank of China, made the remarks at a forum during the third World Internet Conference in Wuzhen, Zhejiang province on Friday.
He also said the central bank will encourage financial services to be combined with e-commerce and the industrial chain in rural areas, in order to establish an internet-plus inclusive financial supervision system.
China has accelerated innovation in digital finance in recent years, but has come across certain problems and risks during the process.
He said inclusive finance, following the principles of equality and sustainable business, could offer effective financial services to all people in the society at an affordable cost. This will provide needed services to micro businesses, low-income people and farmers in remote areas.
"The internet has inclusiveness, openness, and connectivity. It could improve financial efficiency, satisfy diverse investment and financing requirements, and greatly improve the inclusiveness and coverage of finance," he said.
But, some digital finance companies also lack risk awareness and some are even involved in illegal fundraising, fraud and other illegal activities, he said.
Up to the end of 2015, 1,171 private lending platforms in China have ceased operations due to runaway managers, withdrawal difficulties, or involvement in investigations - more than twice the number in the previous year, according to the "2016 Annual Report of Internet Finance in China" released at the forum.
The report says that these platforms feature a short loan period, half under six months, which increases the risks.
Thus, the People's Bank of China is carrying out a campaign, with related departments, to regulate the industry.
Pan noted that similar products will be supervised under unified standards, so that decisions cannot be influenced by companies and the rights of consumers will be protected.
Lu Shuchun, secretary-general of the National Internet Finance Association of China, affirms the development of China's internet finance industry has entered a period of standardization and regulation since 2015.