Leaders gather to brainstorm today's international context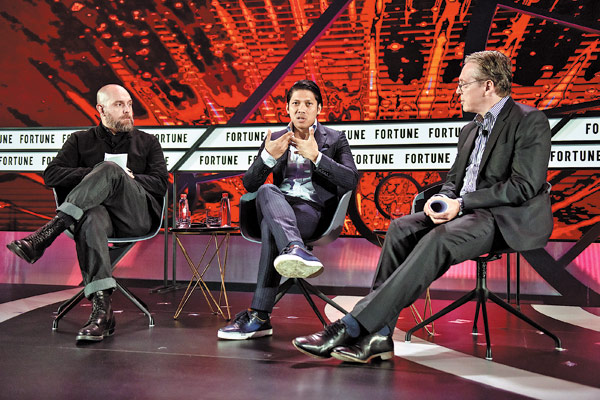 Charles Hayes (left), executive managing director of IDEO Asia, and Robbie Antonio (center), founder and CEO of Revolution Precrafted, talk at a panel during the conference, moderated by Clay Chandler, executive editor of Time International. [Photo/China Daily]
Guangzhou, a centuries-old international commercial hub, gathered leaders of the global innovation economy at the Fortune Brainstorm Tech International Conference that opened on Tuesday.
Focusing on technological innovation, the first-ever Fortune Brainstorm Tech International Conference is huge in its own right, but is also the curtain raiser event for the Fortune Global Forum, which runs from Wednesday to Friday in the capital city of southern Guangdong province.
For its part, the earlier brainstorm tech conference is a meeting for the world's top technology and media thinkers, operators, entrepreneurs, innovators and influencers, according to the event's organizers.
They said the two-day event is a showcase for innovation in China and the major trends in technology in the international context, as well as an opportunity to build up Guangzhou as a China-based community for global tech and innovation leaders.
"Guangzhou is fast becoming a global leader in science and technology innovation," said Alan Murray, president of Fortune and chief content officer of the United States-based group Time Inc.
"The city is the ideal location for the conference," Murray added. Fortune is a multinational business magazine published and owned by Time Inc and headquartered in New York City.
Murray said that Guangzhou has established commercial and trade links with more than 200 countries and regions.
"It is China's southern gateway to the world and an emerging center for tech innovation," he said.
The Fortune Brainstorm Tech International Conference brings together some of China's most promising startup companies and emerging technology leaders.
The program features exchanges between innovators in China who are finding new pathways to success, and tech leaders from around the world, including those from Silicon Valley in the United States, Israel, Europe and other parts of Asia.
John Needham, managing director of the Fortune Global Forum, said that China has made great progress in innovation in the fields of artificial intelligence, biotechnology, financial technology, virtual reality, the shared economy and mobile technologies-instead of being an imitator of science and technology.
He added that Guangzhou is one of the leaders in China in reforms driven by globalization and digitization, and the city was showcasing its innovation results through the conference.
"We are honored that Guangzhou Automobile Group, a company that is highly respected for its innovative research and development, is our partner sponsor," said Needham.
The company, one of China's homegrown automakers, is providing official vehicles for the Fortune Global Forum.
Another sponsor, Guangzhou Pharmaceutical Group, has promoted its development scale and international influence in recent years through its innovations.
Li Chuyuan, chairman of the group, said that cooperating with the world-leading economic forum provides a good opportunity to promote the brand's international influence and seek more global partners.