China reports 17.3 percent increase in FDI inflow in September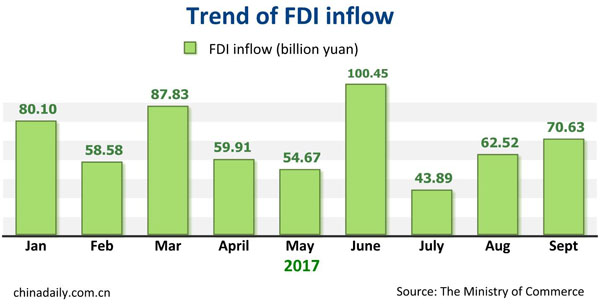 BEIJING - Foreign direct investment (FDI) into the Chinese mainland rose 17.3 percent year-on-year to reach 70.63 billion yuan ($10.7 billion) last month, data showed Friday.
The growth accelerated from the 9.1-percent rise seen in August, according to data from the Ministry of Commerce.
In the first nine months, the FDI inflow edged up 1.6 percent, compared with a 0.2-percent drop during the January-August period.
FDI in the manufacturing sector bounced back while high-tech manufacturing and service industries maintained strong growth momentum.
In the first nine months, the manufacturing sector attracted FDI worth 181.76 billion yuan, up 7.5 percent year-on-year, accounting for nearly 30 percent of the total FDI.
The service sector drew 428.2 billion yuan, or 69.2 percent of the total. Production and supply of power, gas and water rose 82.9 percent year-on-year.
Some 52.98 billion yuan flowed into the high-tech manufacturing sector, an increase of 27.5 percent year-on-year. The high-tech service industry attracted 91.59 billion yuan, up 24 percent year-on-year.
FDI into central China registered rapid growth in the first nine months with total volume up 46 percent year-on-year to 45.63 billion yuan.
FDI from Hong Kong, Taiwan, Japan and France grew quickly during the same period, with growth from Taiwan rising 44.2 percent year-on-year.
Ye Wei, deputy head of foreign investment department of the MOC, attributed the fast FDI growth to effective policy that has boosted the confidence of foreign investors, as well as the accelerated process of industrial restructuring. A number of key projects launched in September also boosted the aggregate volume.
Ye said there will be a continued effort to attract FDI in the future as the opening up and reform continues and high-level free trade zones are completed.