COFCO goes global to grow grain security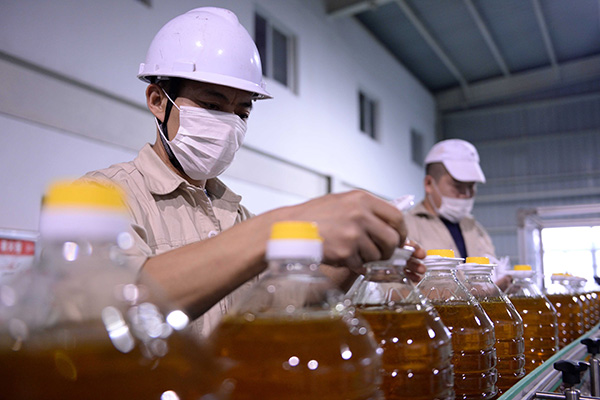 Workers package edible oil at a COFCO plant in Nanchang, capital of Jiangxi province. [Photo/Xinhua]
COFCO Corp, the country's biggest agricultural products supplier by revenue, plans by 2020 to see 60 percent of its revenue contributed by overseas markets and control up to 50 million metric tons of foreign grain resources to ensure China achieves grain security, said its senior executive.
The Beijing-headquartered group will invest 29.97 billion yuan ($4.58 billion) in both domestic and global markets this year, of which 61 percent will go to its pillar businesses including food trade and processing, branded products, storage and logistics.
"COFCO will put its major focus on grain, oil, sugar and cotton," said COFCO President Yu Xubo. "We will achieve agricultural commodity imports by 2020 of 30 million tons of corn, 20 million tons of soybeans, 10 million tons of rice, 10 million tons of wheat, and 5 million tons of sugar."
The group will invest 10 billion yuan in countries and regions related to the Belt and Road Initiative such as Russia, Thailand and Vietnam during the 13th Five-Year Plan (2016-20) period.
Despite the decline in global agricultural commodity prices in 2016, the group's net income jumped 80 percent year-on-year to 6.2 billion yuan last year thanks to China's ongoing supply-side structural reform, State-owned enterprise reform and its tailor-made going global strategy.
"COFCO will push the SOE reform further as well as in its going global strategy," Yu added. "China currently imports over 130 million tons of agricultural products every year, and COFCO has secured supplies from major food import destinations covering six continents."
With its sales revenue totaling 216.1 billion yuan in the first half of 2017, COFCO saw its profit grow 120 percent year-on-year to 6 billion yuan during the same period.
"We will give priority to areas that matter with regard to the country's grain security, as well as add investment in the grain, oil, sugar and cotton to seize more global market share."
COFCO's global operation proved to pay off as it has promoted wider and greater source of agricultural raw material throughout the world in 2016.
COFCO International, a subsidiary of COFCO, purchased over 130 million tons of agriculture products. With an efficient logistics system, COFCO is able to provide food from abundant farming regions to areas around the world with the highest demand.
"China has become the world's largest market for food trade. Supported by the Belt and Road Initiative, food trade between China and its partners is expected to grow rapidly. It is critical for the group to build efficient global supply and logistics networks," said Ding Lixin, a researcher at the Chinese Academy of Agricultural Sciences in Beijing.
Eager to enhance its earning capacity, COFCO International acquired the remaining shares in COFCO Agri and Nidera in 2016. They will be fully integrated into the strategic asset layout of COFCO in the future in order to create a comprehensive overseas platform to compete with other established global rivals.