Temasek to invest more in China's consumer sectors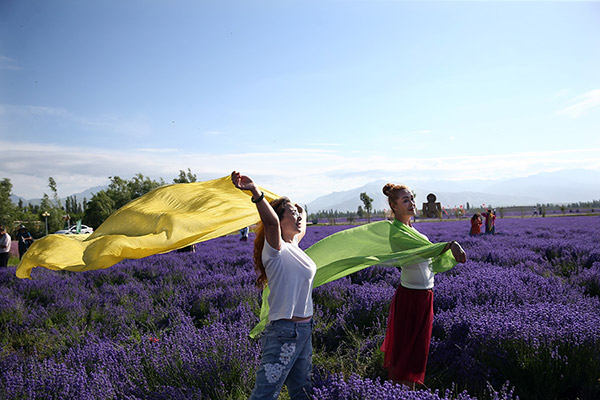 Tourists pose in a lavender plantation at Huocheng county, based in the Ili Kazakh autonomous prefecture, Northwest China's Xinjiang Uygur autonomous region, on June 17, 2017. [Photo by Zou Hong/China Daily]
Singapore's state-owned investment firm Temasek Holdings Pte Ltd is optimistic about the world's second biggest economy and it plans to bet more on consumer-related sectors in China, two of its leading executives said.
Wu Yibing, joint China head, said Temasek is targeting sectors such as healthcare, tourism, and education that will benefit from the rise of the Chinese middle class and the rebalance of the economy toward a consumption and service-driven one.
"Overall, we are cautiously optimistic about the Chinese economy and we believe the country is capable of achieving a successful economic rebalance," Wu said.
The firm is comfortable about seeing slower but more sustainable growth in China, which will allow greater room for the government to push through necessary reforms including cutting excess industrial capacity, reducing leverage and curbing systemic financial risks, Wu added.
China remained the biggest country by portfolio exposure for Temasek's investments outside Singapore for its financial year to end-March, accounting for 25 percent of its net portfolio.
Temasek, posting its full year results earlier this week, reported a 13 percent shareholder return, while the value of its portfolio reaching a record S$275 billion ($197 billion). Longer term 10 year and 20 year returns on its assets were 4 percent and 6 percent, respectively.
For the first time since 2009, the firm reported that it was in a net divestment position, investing S$16 billion but divesting S$18 billion of its portfolio. Temasek said the change underscored its concern about high market valuations globally and possible credit tightening in the US and Europe.
The firm sold part of its holding in Chinese e-commerce giant Alibaba Group Holding Ltd and State-owned China Construction Bank Ltd, while investing in Chinese online travel site Ctrip.com International Ltd and genomics information company Wuxi Nextcode Genomics Inc.
Wu Hai, a managing director for China, said the firm was encouraged by the reform in the Chinese medical and healthcare sectors, which would boost innovation and generate more investment opportunities for Temasek.
The Singaporean firm also invested in Chinese express delivery company ZTO Express last year and retained its holding in JD.com Inc, the domestic rival of Alibaba.
The firm said its portfolio mix in China is in line with an adjustment in its global investment theme, with more focus being placed on new areas such technology, agriculture, life sciences, healthcare, non-bank financial services, energy and resources.