Shaanxi prospers from Belt and Road development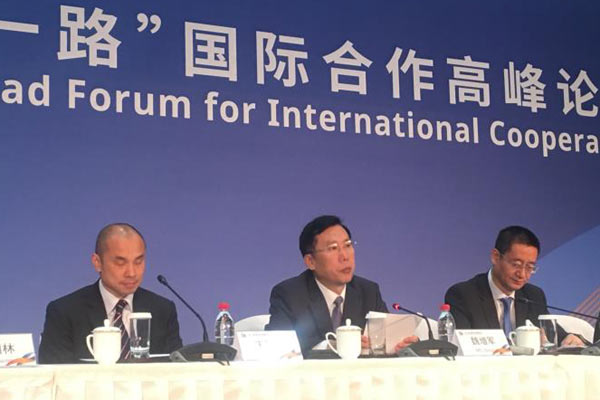 Wei Zengjun (center), Shaanxi's deputy governor, briefs the media at a news conference on May 12, 2017, ahead of the Belt and Road Forum for International Cooperation in Beijing, China. [Photo by Luo Wangshu/chinadaily.com.cn]
Northwest China's Shaanxi province has successfully exported apples, electronic products and oil extraction equipment to Asia and Europe using a newly developed transportation network, a senior provincial official said on Friday.
"Shaanxi is China's largest apple production base. Apples produced in our standardized plantations are popular in the European and US market," Wei Zengjun, Shaanxi's deputy governor, said at a news conference ahead of the Belt and Road Forum for International Cooperation, which starts on Sunday.
About 1,500 delegates from more than 130 countries, including 29 heads of state, will gather for the two-day forum, according to the Ministry of Foreign Affairs.
Shaanxi aims to establish five centers to implement the Belt and Road Initiative - one for transportation, trade and logistics; another for international industrial cooperation; a third for technology and education; a fourth for international tourism; and the fifth for regional finance.
"International freight trains such as China Railway Express and chartered planes have taken products made in Shaanxi and other parts of China to the rest of Eurasia," Wei said, adding that the number of trains carrying products such as wheat and frozen food back to China is also rising.
"Shaanxi is in the geographic center of China, which facilitates its linking up with the rest of the country and opening up to the world," he said.
The Belt and Road Initiative, first proposed by President Xi Jinping in 2013, aims to boost exchanges between China and the rest of the world, including in trade and infrastructure investment and people-to-people exchanges.
The Initiative, comprising the Silk Road Economic Belt and the 21st Century Maritime Silk Road, is intended to connect Asian, European and African countries and promote cooperation.