Wang Jianlin and Wang Sicong top New Fortune rich list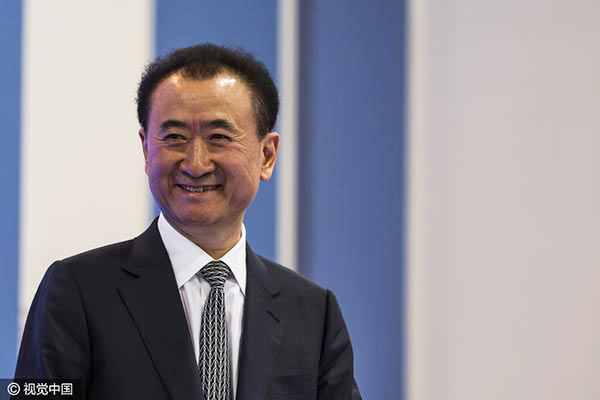 Wang Jianlin, chairman and president of Dalian Wanda Group, attends the Asian Financial Forum (AFF) in Hong Kong, Jan 18, 2016. [Photo/VCG]
China's real estate tycoon Wang Jianlin from Dalian Wanda Group and his son Wang Sicong topped the 2017 New Fortune 500 rich list, with a personal wealth of 179.4 billion yuan ($25.99 billion), according to the latest annual wealth ranking released Tuesday by New Fortune magazine.
Alibaba's CEO Jack Ma, one of China's internet triumvirates known as BAT (Baidu, Alibaba and Tencent), came in second, with 156.3 billion yuan to his name.
Replacing another BAT leader Ma Huateng, CEO of Tencent, SF Express's chairman Wang Wei rose to the third spot after the logistics company was listed on the A-share market this year, catapulting his personal wealth to 150.5 billion yuan.
The other BAT head, Baidu's controller Robin Li, slipped to the 10th on the list with a wealth of 63.4 billion yuan.
Jia Yueting, CEO and founder of LeEco, dropped out of the top 10, after his wealth shrunk by nearly 30 billion yuan.
About a decade ago, the real estate industry, the main beneficiary of China's fast urbanization, produced the highest number of rich people with seven out of 10 richest and the top four coming from the industry.
However, five of this year's richest come from technology, media and telecommunications (TMT) industries. Although Wang Jianlin and Wang Sicong remain top on the list, their fortune slipped by 9.5 percent from 200 billion yuan in 2016 to 179.4 billion yuan in 2017. While the wealth of Jack Ma, CEO of an e-commerce firm Alibaba group, increased by 24.3 percent from 125.7 billion yuan to 156.3 billion yuan.
The development of China's capital market has boosted the A share market to become a main rich maker on the Chinese mainland. In 2003, about 50 percent of the rich people's listed companies were listed on overseas stock exchanges, but the percentage dropped to 27 percent in 2012. More and more of China's wealthy are being marked "made in China."