Anti-affair Weiqing eyeing New Third Board listing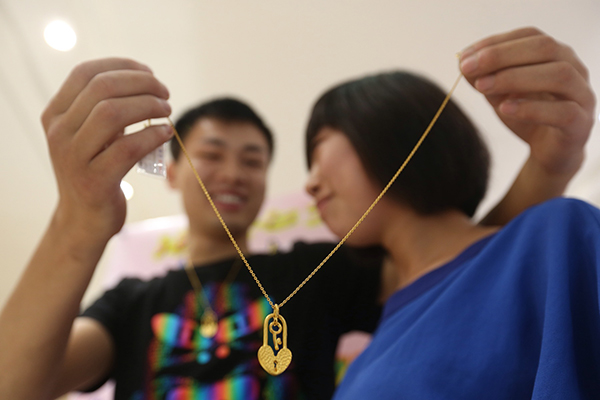 A young man sends a gold necklace to his girlfriend in Beijing. [Photo/VCG]
A Shanghai-headquartered company, that makes most of its profits from helping "exterminate" extramarital affairs, to head off divorces in shaky marriages, is seeking a listing on the New Third Board.
Shanghai Weiqing Network Technologies Co, an agency that said it provides marriage consultation and services to "exterminate" any third party in a peaceful way, made a listings filing to the National Equities Exchange and Quotations.
Commonly known as the New Third Board, the exchange is popular among micro businesses up to medium-sized companies.
"We are preparing for the listing," said Shu Xin, founder of Weiqing and its senior counselor. "We will receive feedback in April or May."
Founded in November 2009, Weiqing expanded from a small studio to a service company with 297 full-time and part-time employees.
The company said it is dedicated to resolving problems in marriages and resorts to a variety of methods to engage any third parties and convince them to back out of affairs.
"Extramarital affairs account for 80 percent of our marriage counseling cases."
As the top player in the sector, the company had invented 33 ways-all abiding by laws and social mores-to correct cheating behavior, with only four of them publicized, Shu said.
Some of those known methods include helping the third party find a more suitable partner, disclosing the little-known secrets of their married lovers and involving their family and friends in the persuasion process.
"Every employee, including the cleaners, are asked to sign a confidentiality agreement to protect most of our measures from being released. In addition, we are still coming up with new measures," Shu added.
According to the company's website and filing statement, the marriage experts at Weiqing usually charge 1,000 yuan ($145) to 3,000 yuan per hour for marriage consultation.
Their clients can be extravagant: the five customers spending the most at Weiqing between January and October last year shelled out a total of 3.6 million yuan, accounting for about 20 percent of the company's income during that period.
The most generous client alone spent about 1.42 million yuan.
Shu said he saw a bright future for his company, as until 2015 China's divorce rate had been on the rise for 13 consecutive years.
The latest figures from the Ministry of Civil Affairs show that about 3.8 million couples filed for divorce in 2015 across the country. A report by the China Women's News in February said that extramarital affairs were the top reason in broken marriages, followed by domestic violence.
Shu said the core value of Weiqing was to help people maintain a stable and happy marriage. To fulfill the goal, the company will expand its business to teach people how to be a good wife, husband, parent, daughter- in-law and son-in-law.
Lu Qian and He Qi contributed to the story.