World Bank's Romer reassures on growth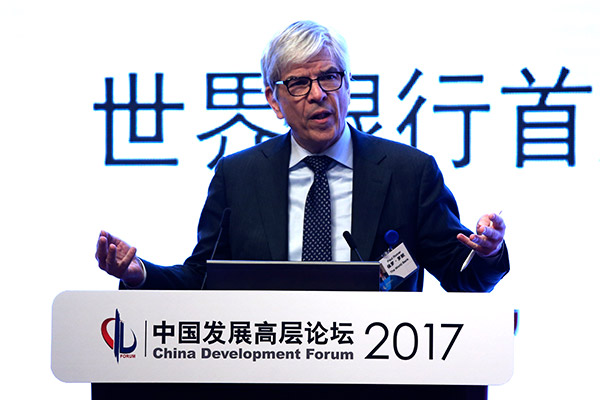 Paul Romer, chief economist of the World Bank. [Photo provided to China Daily]
China's economy is very resilient and there is no need not worry about its current growth slowdown, said Paul Romer, chief economist of the World Bank. He also suggested that China should share its growth experiences with other developing countries to help them emulate its economic success.
Romer praised China's stable economic growth in recent years, which continued despite shocks such as the global financial crisis, as well as the anti-globalization trend following the United Kingdom's vote to leave the European Union and Donald Trump's unexpected victory in the United States' presidential election last year.
"One of the striking successes of the Chinese economy is that even though there have been a number of surprises, its growth rates have been very stable," Romer told China Daily in an exclusive interview on Sunday, on the sidelines of the three-day China Development Forum. "(While) growth turns negative when there are shocks in the rest of the world, the Chinese government makes sure that growth continues."
He attributed China's stable growth to the country's macroeconomic management capacity.
"It's partly because it's very large and it has some tempo," he said. "But (it is) also because China has done a good job in macroeconomic management so that when there's a shock, they are ready to respond and keep the economy working at full capacity and full employment."
China's year-on-year GDP growth slowed to 6.7 percent last year, the slowest in 26 years, down from more than 10 percent in its peak years at the beginning of the 21st century. But Romer explained the country's growth remains "very fast" compared with other countries.
"It has slowed from extremely fast to very fast. You don't have to worry about that; and 6 percent or 6.5 percent is still very significant," he said.
China has set a target of 6.5 percent GDP growth this year. To that end, it has also vowed to accelerate its structural reform, promote innovation and shift more of its attention to developing high technology and advanced manufacturing.
Romer, who is also a senior vice-president at the World Bank, suggested that China should encourage innovation, entrepreneurship and competition to raise the efficiency of its economy. "Competition can reward the most innovative. It's always a good idea to encourage competition," he said.
According to Romer, China should continue to push urbanization to raise people's general well-being and set an example for less-developed countries.
"Urbanization gives people a chance to get a job where they can learn and join the modern economy. That's what we should be studying about the Chinese economy and that's what we should be encouraging other economies to copy," said Romer, who is an economist on catch-up growth in low- and middle-income countries.